Efforts underway to develop Bhutanese Sign Language
Yeshi Gyeltshen, Paro

Aug 24, 2016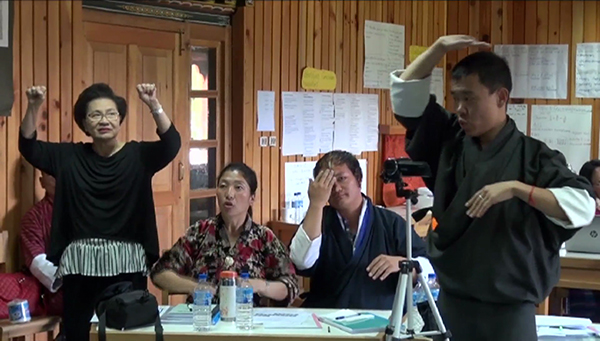 A research team at the Wangsel Institute under Drugyel Central School is documenting and analyzing the existing Bhutanese sign language. There are 2,800 words being used as Bhutanese sign language.
The research is working towards developing a well structured Bhutanese Sign Language.
They had attended a 10- day training on collection and analyzing of sign languages held in Paro.
The training is expected to help develop new words as well as structure the sentences of sign language.
The first step is to understand the grammar of sign language.
An expert, Dr. Maliwan Tammasaeng of Suan Dusit University in Thailand said spoken language is composed with only two, components and vowels. "But, in one phonological component of sign composes of five things-hand shape, location, movement, palm orientation and facial expression. If one of these components change, meaning changes."
Although the project to develop a proper sign language is expected to take a long time, teachers share that it is of paramount importance.
A member of the research team and teacher, Sushila Gurung said lack of proper structuring of the language not only causes a problem in teaching but also hampers the students' learning.
The next step for the project is to develop new words. The research team will start collecting data from the hearing-impaired community, soon.