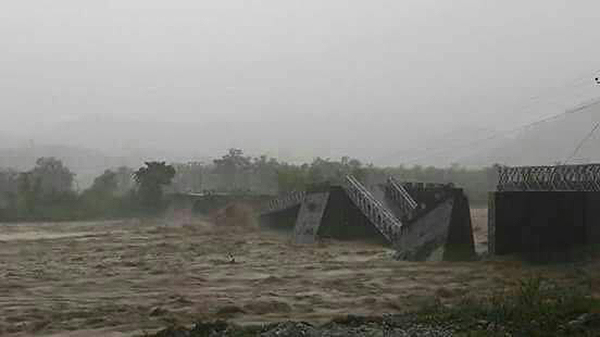 Another Bailey Bridge adjoining Budhini Bridge in Samtse collapsed, today following a torrential downpour, last night. Budhini Bridge had collapsed Friday.
The rain had fed Dhamdum River causing it to break its abutment.
The Minister for Information and Communications, DN Dhungyel, who is in Samtse monitoring the situation, said they had to temporarily stop the on-going restoration works since the volume of water level has increased overnight.
However, Lyonpo DN Dhungyel said they will work as soon as the weather clears and find an alternative to restore the vehicular traffic.
"With the command from His Majesty The King, Royal Bhutan Army has been mobilised for the restoration of bridge at Dhamdum. About 100 soldiers will be mobilised in next few days to do the work."
Lyonpo said they also have volunteers and DeSuups helping them.
"The damages are severe and restoration of this bridge is important since it connects the Dzongkhag Administration with most of its gewogs and people that side are affected the most; we will have to work immediately on this bridge."
Movement of both vehicles and people has been cut off since Friday. This bridge connects Samtse Dzongkhag with its nine gewogs.
People from the other side have been using the Indian Highway from Nagarkata to commute in case of emergencies.