His Majesty visits recently rehabilitated village
Jun 24, 2016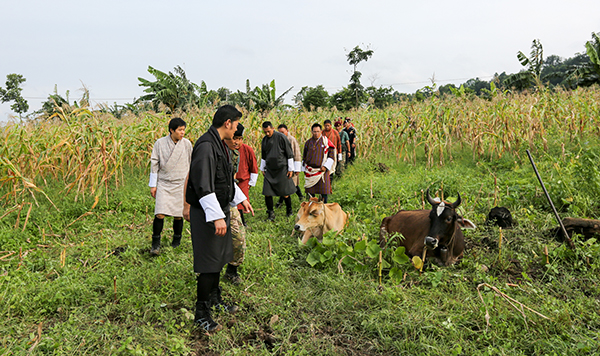 His Majesty The King visited Dawathang village in Jomotshangkha in Samdrup Jongkhar where 31 families have begun a new life after receiving land kidu from His Majesty The King.
They now have road, water, and power supply. The village is close to a school and BHU, and boasts of rice and flour mills. Solar fences and irrigation channels have also been built to help the farmers.
The people of Dawathang lived in the nearby villages of Serthig, Lauri, and Langchenphu Gewogs. They did not own any land and lived in far-flung places.
Upon the command of His Majesty The King, the National Rehabilitation Programme provided land.
"Life was difficult in Serthig. There was no road and no land to cultivate. But now we are very grateful to His Majesty the King for granting us not only kidu land but also ration and seedlings.
The Rehabilitation Project is coordinated by the Office of the Gyalpoi Zimpon, Land Commission, and Gross National Happiness Commission. Similar villages have been developed at Pema Gatshel, Lhuentse, and Haa.