Use zebra crossings or get penalised starting October this year
Sonam Choden, Thimphu

Mar 25, 2016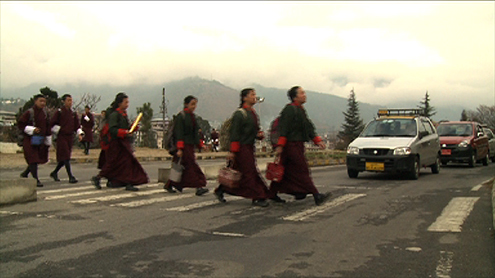 By October this year, even pedestrians will be penalised for not using the zebra crossings in Thimphu. Pedestrians will have to pay a fine of Nu 550 for not using the zebra crossings. Until today, only motorists have been penalised Nu 700 for not following the zebra crossing rule.
The rule is generally found to be helpful in regulating smooth flow of traffic and for the safety of pedestrians. However both motorists and pedestrians say it is not convenient to use the zebra crossings.
A pedestrian Sonam Tenzin said "some drivers let us pass on zebra crossings but some of them are arrogant and don't control while driving". Similarly another pedestrian Sangdi Wangdi says it takes time to walk all the way to find a zebra crossing point. "Sometimes some drivers, when they stop to give way to pedestrians, a lot of them do not respect the pedestrians. So we have to wait and let vehicles pass and then only cross".
Motorists however say pedestrians are abusing their zebra crossing rights.
"Pedestrians think that they have the rights over zebra crossing and some of them tend to walk leisurely by talking and fiddling with their mobile phones" says Ugyen Dorji, a taxi driver.
The zebra crossing, according to another driver, Kiran Subedi, is creating confusion to both pedestrians and drivers.
"They do not know whether they should cross or whether they should wait for a while. In that sense, sometimes there are vehicles coming from behind and it also leads to sort of jam".
Meanwhile, Lt. Col. Namgay of Traffic Police Division says both pedestrians and drivers are not taking the zebra crossing rule seriously. "Both parties should cooperate. If there are cars waiting, pedestrians must let the cars pass by first. If pedestrians walk in a group of 3-4, it would ease the traffic congestion"
But things might change soon as people are slowly getting familiar with the rule. Police started creating awareness about zebra crossing in October last year. There are 68 zebra crossings in Thimphu.