Bhutanese plant 108,000 saplings in dedication of the first royal child the Gyalsey
Sonam Tshering, Thimphu

Mar 7, 2016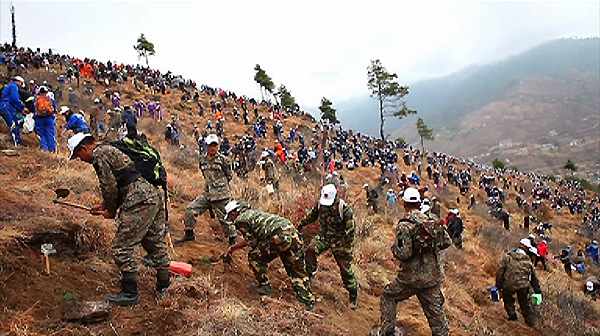 An overwhelming number of people came to plant saplings in Thimphu as part of a program organized by Tendrel Initaitives. The event was organised to welcome The Gyalsey, the first royal child of His Majesty the King and Her Majesty the Gyaltsuen. A total of 108,000 saplings were planted across the country. According to Tendrel Initiatives, combined with the sacred Buddhist number, "108", the act of planting 108,000 trees represent the highest form of pledge and dedication.
Before the plantation, Tsugla Lopon from the Zhung Dratshang recited the Thugmoen, for His Royal Highness the Gyalsey.
At 10 minutes past 10 in the morning, the plantation began at the same time in 14 dzongkhags. At Kuenselphodrang in Thimphu, nearly 6,000 people from all walks of life took part in the event and planted 5,000 oak and blue pine saplings.
Prime Minister Tshering Tobgay, parliamentarians and government officials were also among the participants. Each sapling is being adopted by the planters. The sapling pit also had a placard with the name and contact number of the planter who will be called whenever care is necessary.
Tenzin Lekhphell from the Tendrel Initiatives said, a caretaker will look after the saplings for the next four months until the monsoon. "We gave one sapling to one person and it will represent his dedication to the Gyalsey." They have also promised to take care of the sapling.
Nearly 100,000 people were involved in the plantation in 14 dzongkhags. A sapling each was planted by every household in far flung villages. According to the organizers, each sapling represents the dedication of the people to the kingdom's ruling Wangchuck dynasty.