Bridge built by Thangthong Gyalpo needs repair
Yeshi Gyeltshen, Paro

Feb 18, 2016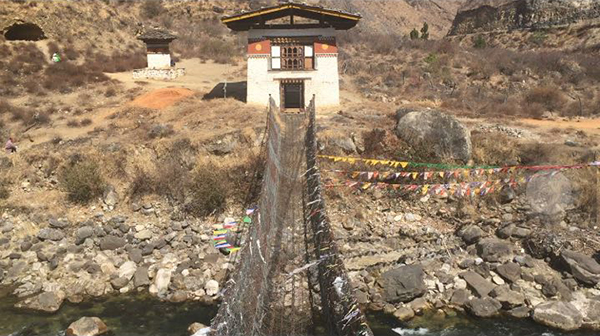 An important heritage site, the iron chain Bridge at Tachog Lhakhang in Paro, built by the famous 14th century Thangthong Gyalpo, is in need of restoration.
It is located between Paro and Thimphu, opposite the highway at Dogar Gewog and connects Tachog Lhakhag.
The bridge, completely rebuilt in 2003 using iron chains belonging to famous Yogi, is also being further damaged by frequent theft of the chain links.
This bridge was reconstructed in 2003 after the original one was washed away during a flood in 1968.
Pema Tshering, whose wife is one of the descendants, has been looking after both the monastery and the bridge.
He said three of the cables holding the bridge have come apart. "It happened for the first time in the last two years."
Although the bridge is still being used by locals and tourists, he says it poses risks. Three incidents were reported to the officials. However, Pema says there has been no word on repairing the damages.
Also, the culprits were never found.