Pelela to get a marble chorten
Sonam Tshering, Thimphu

Feb 8, 2016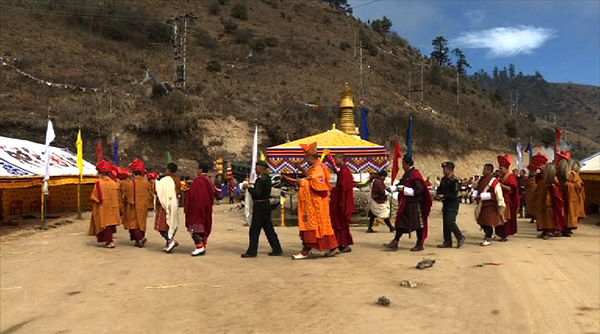 The groundbreaking ceremony for the construction of a chorten at Pelela Pass in Wangdue Phodrang was held on Saturday. Lam Neten, Namgay Wangchuk, who presided over the ceremony, said the chorten was for the wellbeing of the newly born, His Royal Highness The Gyalsey. He said it is also for the members of the Royal Family and the Nation.
"We chose Pelela to construct the chorten because Pema Lingpa is said to have taken this route when he went to Gangtey. He is said to have halted at Pelela," said the Lam Neten.
It is not known when the construction will begin.
The chorten will house statues of Choeku Kuentu Zangpo, Rigsum Goenpo, and Jowo Jamba statues as its sacred relics.
Unlike most of the chortens in the country, this one will be constructed with marble for durability.
Over 200 people from various agencies and monk body took part in the programme.