Ground breaking ceremony for Drukgyal Dzong's restoration held
Yeshi Gyeltshen, Paro

Feb 6, 2016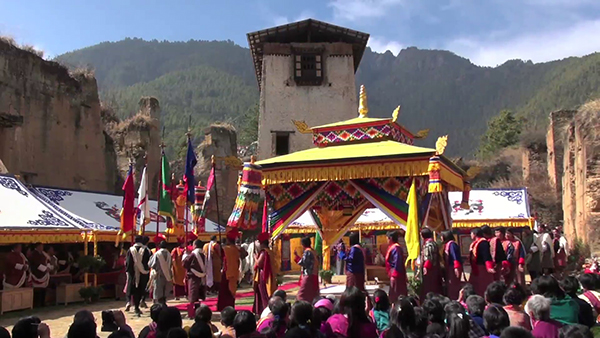 To mark the Birth of The Gyalsey, the ground breaking ceremony for the restoration of Drukgyal Dzong in Paro was held, today. Only the ruins of the fortress, built in the 17h century in the time of Zhabdrung, remains.
The restoration works is scheduled to start this year, coinciding with the Birth of the Royal Prince, the Birth Year of Guru Rimpoche and to mark the arrival of Zhabdrung to Bhutan.
The Prime Minister, Tshering Tobgay graced the ground breaking ceremony for the restoration of Drukgyal Dzong today.
The Dzong was built during a time when relation with the then neighbouring country Tibet was sour.
According to Paro's Lam Neten, Sonam Tenzin, the Bhutanese forces fought two battles against the Tibetan army where Drukgyal Dzong now stands. Both the battles were won by the Bhutanese.
After the second battle which was the decider, Drukgyal Dzong was built to celebrate Bhutan's victory.
"Zhabdrung himself ordered that a Dzong needed to be built to remember and celebrate the events that took place here. And Later upon Zhabdrung's command Paro Chila, Tenzin Drukdra constructed the Dzong."
Lam Sonam Tenzin says the Dzong used to have weaponry and documentation of the wars fought with the enemies stored inside. But all of this was lost to a fire accident in 1951.
 A date on when the restoration works will start has not yet been decided. However, officials say it will start soon and hope to finish it in two years.