Number of cancer patients increasing
Tshering Zam, Thimphu

Feb 4, 2016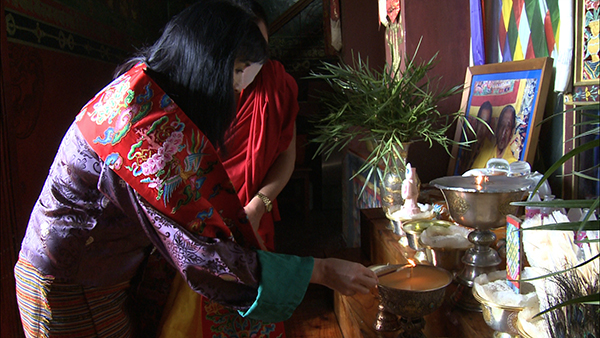 To observe the World Cancer Day today, people in Thimphu gathered at the Memorial Chorten to remember their loved ones they lost to cancer. Her Royal Highness Ashi Kesang Wangmo Wangchuck graced the event to show solidarity.
Cancer has claimed the lives of nearly 400 Bhutanese in the last four years. The number of cancer patients in the country is increasing every year. From about 600 in 2013, the number rose to over 700 in 2014.
Dechen Chime lost her mother to breast cancer a few years ago. She was at the chorten to offer butter lamps and prayers.
"It has been an emotional day." Dechen said the day was al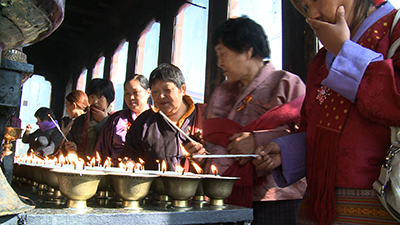 so about supporting each other. "And more so to impart knowledge that cancer is preventable."
A cancer survivor, Dorji Yangzom said early detection saved her life in 2013 when she was 31 years old. "I underwent chemotherapy. I am thankful to the doctors and my parents for the all support since we need lot of care. I recommend by friends not to hesitate and visit hospital for early detection."
The most common cancer in the country is stomach cancer followed by cervical among others.
Smoking, drinking, consuming doma and high salt diet are the leading cause of cancer in the country.
National Referral Hospital's Gynaecologist, Dr. Ugyen Tshomo said some cancers are preventable. "Cervical cancer is preventable by doing Pap smear or vaccination. Liver cancer can be prevented by vaccination against hepatitis B. And stomach cancer may be prevented by not eating stale food. Then, breast cancer is preventable if you have children at young age."
She also said breast cancer can be detected early through self-breast examination and mammography. "Colorectal cancer could be prevented through regular stool test and colonoscopy."
Dr. Ugyen Tshomo added that healthy lifestyle could also help prevent cancer.
The health ministry spends over Nu 100,000 a cancer patient for an operation abroad. According to the World Health Organization, cancer is one of the leading causes of death in the world.