Share trading still not able to pick up pace
Nidup Gyeltshen, Thimphu

Feb 2, 2016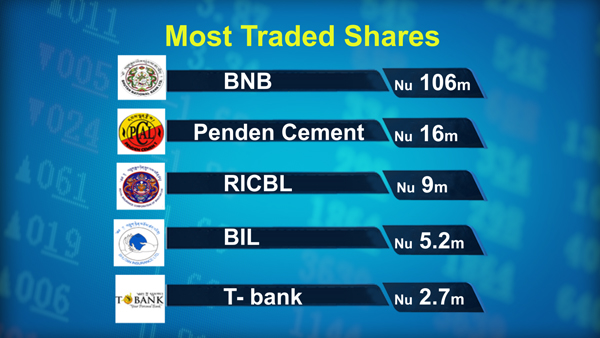 Despite reducing share prices from Nu 100 to Nu 10, share trading in the country is yet to pick up pace. In 2014, shares worth Nu 181 M were traded in the market and last year, it had marginally increased to Nu193 M.
The exchange last year in a bid to encourage more people to invest in shares reduced the face value of shares from Nu 100 to Nu 10.
Shares were made ten times cheaper so as to attract small investors to join the market. However, more than a year since, the number of people investing in shares remain more or less the same.
"The whole idea of bringing down the face value to Nu 10 was to attract more people, investors, particularly the retail investors to participate in the stock market. But on the other hand, it has to be equally matched by new supply of shares in the market in the form of New Initial Public Offers, etc," said Royal Securities Exchange of Bhutan's CEO, Dorji Phuntsho.
Shares of Bhutan National Bank were the most traded at Nu 106 M worth shares as of December 2015. It is followed by Penden Cement authority, Royal Insurance Corporation, Bhutan Insurance Limited and T-bank.
There are 21 listed companies in the stock exchange, today. In August last year, GIC RE Bhutan, a new re-insurance company, was listed in the stock exchange.