New Indian Ambassador presents credentials to His Majesty
Feb 2, 2016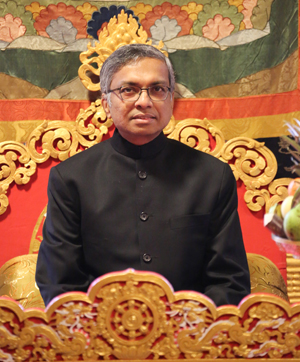 The new Indian Ambassador to Bhutan, Jaideep Sarkar presented his credentials to His Majesty the King, today. Prior this current appointment, Jaideep Sarkar was the Indian Ambassador to Israel.
Born in 1963, he joined the Indian Foreign Service in 1987 after completing a Bachelor's Degree in Engineering from the Indian Institute of Technology. He also has a Masters in Business Administration from the Indian Institute of Management.
A father of two, Jaideep Sarkar served in the Indian missions in Japan, South Korea, and Bangladesh.
In the evening, the Indian Ambassador also called on the Prime Minister.
The two leaders discussed promoting and exploring different pathways of cooperation to accommodate newer areas of mutual economic interests.
Lyonchhen extended his appreciation to the Ambassador for India's assistance in bringing about socio-economic developments in the country and said that Bhutan continues to reap visible benefits of goodwill and support from GoI.