PM brings up school holiday timing
Pema Namgay, Trashigang

Jan 13, 2016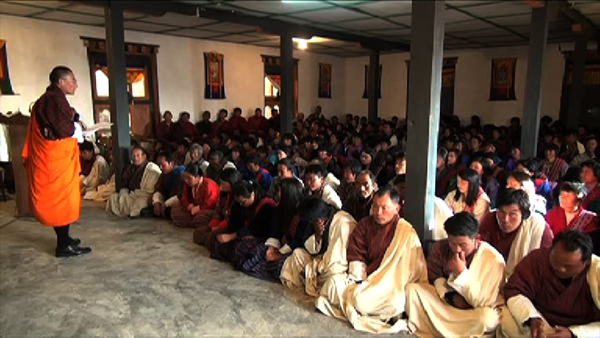 The Prime Minister, Tshering Tobgay asked the people of Bidoong Gewog in Trashigang to see if the summer and winter school break timing needs to be revised to address the issue of manpower shortage in villages.
The shortage of manpower, according to Lyonchhen, is one of the main causes of Guntongs or empty households in the villages.
Of the 487 total households in Bidoong, 95 are empty.
"How about extending their summer break by around five to six weeks and reduce their winter break to three weeks or one month, so that your children, who are studying, can come back home during the summer and help you with farm works."
Students get two weeks summer break, currently.
Lyonchhen said if they feel it is necessary, they can bring up the issue during Gewog and DzongkhagTshogdue meetings.
The Prime Minister also said to tackle the issue of Guntongs, the living condition in the village needs to be improved and income generation opportunities created.