Actions against wrongdoings weak in civil service, research finds
Cheten Dupchu, Thimphu

Dec 28, 2015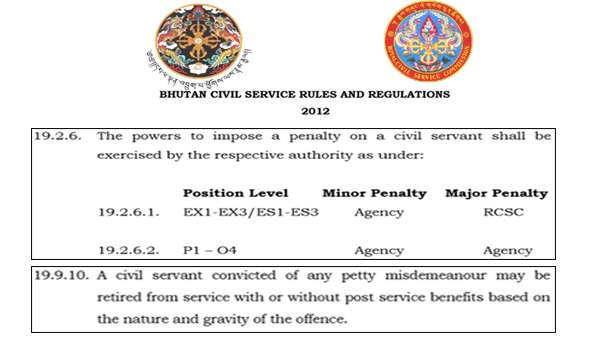 Actions against wrongdoings in the civil service are weak, finds the recent research conducted on Human Resources Management by the Anti-Corruption Commission (ACC) and the academicians.
The research has found that in some cases, the ministries did not recognise the dzongkhag's disciplinary actions against employees with discipline problems. At times, the disciplinary actions were revoked by the ministries. Such actions were attributed to lack of stringent enforcement of Bhutan Civil Service Rules and Regulations 2012.
One of the executives interviewed from the civil service, during the research, had also agreed the problem was with the implementation.
According to the research, there were also inconsistencies in the administrative actions taken by the agencies against wrongdoings. Some agencies took strict actions on wrongdoings while some took lenient actions even for same offences.
ACC's Deputy Chief Integrity Promotion Officer, Namgay said they are recommending that BCSR 2012, within that the sections on administrative penalty needed to be further specified. "For the minor and major penalties, there should be specific penalties against specific offences to make it uniform in all agencies."
The research recommends that from the two sections of Chapter 19 of BCSR, specificity was needed regarding the powers to impose a penalty to civil servants and type of petty misdemeanor which calls for retirement with or without post service retirement.