Nettle fabric to hit the market
Pema Namgay, Trashigang

Nov 30, 2015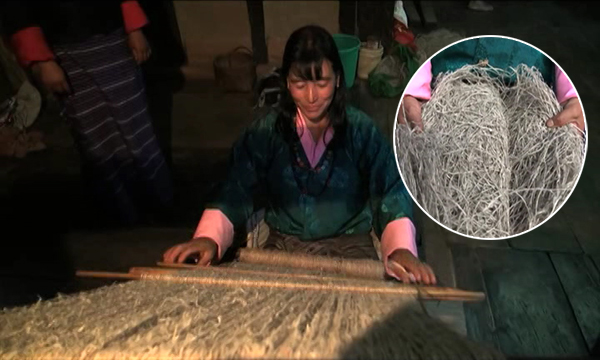 Fabrics made of nettle will soon hit the market. The tradition of weaving fabrics from nettle yarn is being revived in Lhuentse Dzongkhag after over four decades since it disappeared.
Women groups have been formed in Ney village under Gangzur Gewog and Yumchey Village under Jarey Gewog in Lhuentse to revive the tradition of weaving fabrics from nettle yarn.
Yangchen Tshomo is the group secretary in Ney Village. Her 12-member group, Ney Pemacholing Tharig Tshogpa is currently in the process of collecting raw materials.
The nettle plant, which is easily available in the village, is cut to extract fiber from its stem. The fibers are then dried before undergoing a series of processes to finally turn into a yarn.
Yangchen Tshomo said it has been more than 40 years since she saw her grandparents use yarn from nettle plant to weave. She also said earlier people wove socks, sack, and portable backs but not for commercial purpose. "Now we have started the tradition again, with help from Tarayana Foundation, with a hope that we will be able to earn some income."
Nettle yarn has traditionally been used to make ropes and was also spun into yarns to weave durable jackets, mats, bags, and blankets. It is still being used for traditional bowstring in most parts of the country.
But, it is said making yarns from nettle plants lost its popularity after cotton became easily available.
An elderly resident from Lhuentse, Nomey, 84, remembers how they used to use nettle yarn to weave. "We used to learn from each other. I wish I had the energy like the younger ones so that I can be part of the group."
With assistance from Tarayana Foundation, the women's group will weave tablecloths and scarfs from the nettle yarns. They will also be trained to dye the yarn using traditional methods.
The foundation will assist the group in marketing the products. The tradition has been revived as an alternate source of income generation for women in the rural areas.
Following its success in Trongsa Dzongkhag,Tarayana Foundation is currently implementing the Nettle Project in Monggar and Lhuentse districts. The project will also be implemented in other districts, like in Pema Gatshel, in the future.