Villagers repair roads, sets example
Oct 21, 2015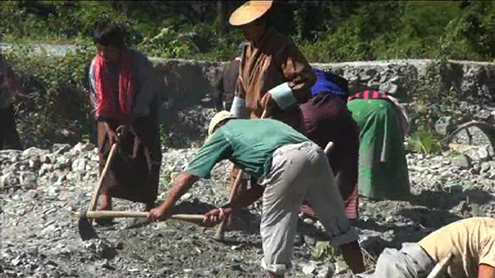 Around 20 individuals in Umling Gewog in Sarpang took off with spades and tools to repair their gewog farm road on Sunday. The road had become a cause of concern for commuters after it was damaged at several points.
Initiated by the local Gup Ugyen Norbu, villagers filled potholes and carried out other minor maintenance works across the 25 kilometre road stretch.
Ugyen Norbu said, it was inappropriate to bother the government for every small matter. If the community can contribute some labour it would save costs and benefit the society at large, he said.
The villagers who had volunteered said the government has provided them with a road but it was also the community's responsibility to carry out some minor repairs.
Some believed it was important to set examples for future generation.
Villagers also feel, after the repair, it would ease transportation.
Besides Umling Gewog, the road also benefits people of three other gewogs including Sherzhong, Chhuzanggang and Tareythang.