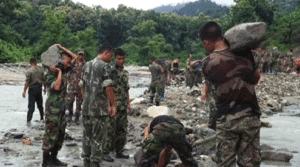 About 400 students of Samdrup Jongkhar Primary School should be able to attend regular classes from Wednesday onward, according to Thromde Education Officer, Dorji Gyelpo. They were unable to go to their school as the bridge connecting their school with the town was washed away, yesterday.
Incessant rainfall had fed Dungsam River triggering yesterday's flood. No casualties were reported.
Dorji Gyelpo said they, with the help from the Royal Bhutan Army, are constructing a temporary bridge in place of the suspension bridge that was washed away.
"After a meeting with the entire sector heads, we decided upon a temporary bridge as an immediate remedy," said Dorji Gyelpo. He said they will come up with the long term solution in days to come.