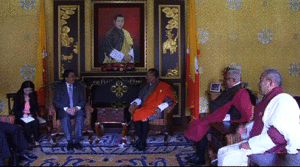 The Prime Minister, Tshering Tobgay met China's Vice-Foreign Minister, Liu Zhenmin and the delegation at the GyalyongTshogkhang, this morning.
After an exchange of pleasantries, the Prime Minister thanked the Chinese delegation for continuing to visit Bhutan and conveyed that such exchanges would promote the cordial relations between the two countries.
On the Bhutan-China border talks, Mr.Zhenmin said that the deliberations have made significant progress under the leadership of the current governments of Bhutan and China.
Lyonchhen also reported that he had personally visited two disputed areas and has plans to visit more so that he is well informed of the actual situations at the border areas.
Lyonchhen and Liu Zhenmin agreed that both sides should look forward to a successful boundary negotiation and come to an early, comprehensive and mutually acceptable solution.
Mr. Zhenmin said that China would continue to respect Bhutan's sovereignty, territorial integrity and independence.
Lyonchhen and the Vice Foreign Minister discussed furthering ties in areas of mutual interests such as tourism, culture and sports. Lyonchhen said that relations between the two countries have been facilitated by numerous people to people exchanges in terms of tourist arrivals and student scholarships.
Meanwhile, Mr. Zhenminalso said he was immensely pleased to observe the Bhutanese people living in peace and harmony. Lyonchhen informed that the people have prospered under the reign of Bhutan's monarchs and the people's devotion and affection for their Kings was inviolable.
Mr. Zhenmin thanked Lyonchhen for the warm hospitality extended to him and his delegation during their stay in the country.