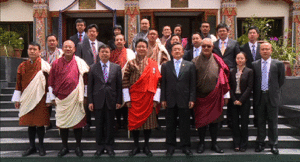 The 23rd round of boundary talks between Bhutan and China was held today. Foreign Affairs Minister, Damcho Dorji led the Bhutanese delegation. Other senior officials from the Ministry of Foreign Affairs and the International Boundaries Secretariat also attended the talk.
China's foreign affairs vice minister, Liu Zhenmin led the 11-member Chinese delegation.
The latest round of boundary talks was held after the two rounds of Expert Group Meetings in Thimphu in October 2014 and March this year in Beijing.The 22nd round of boundary talks was held in China last year.
Boundary talks with China began in 1984.
The boundary negotiations between Bhutan and China are guided by the Guiding Principles agreed to in 1988 and the Agreement on the Maintenance of Peace and Tranquility in the Bhutan-China Border Areas signed in 1998.