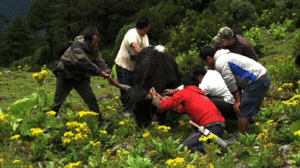 Livestock officials in Trashigang are investigating a disease, which has been affecting yaks in Merak and Sakteng Gewogs. The disease, locally known as Rhemney, has killed over a hundred yaks in the last two decades.
The unidentified disease is said to kill about 10-20 Yaks a year. So far, no cure has been discovered.
Yak herders said they even tried local treatments but it failed to cure the disease. "We still do not understand how our yaks are getting infected. We don't know if the disease comes from the grass they eat," said a Yak Herder in Merak, Rinchen Dhendup.
He said they tried local treatment such as wasp honey and alcohol but it did not work.
To investigate the disease, a group of veterinary doctors and livestock officials are currently in Merak Gewog. They are meeting the affected yak owners to conduct a survey on the nature of the disease.
Veterinary Doctor from the Regional Livestock Development Center, Sangay Lethro said the disease has been around for two decades.
"The outbreak usually occurs between the fourth and fifth Bhutanese month just before the summer season begins. When Yaks get infected, wound appears on the white patch of their body and they cannot walk or eat properly." He said the animal sleeps most of the time and lose weight. The animal dies in between two months and a year after they catch the disease.
The group is also collecting blood samples from the affected Yaks to conduct tests. They are also collecting grass and flora sample to analyze the toxic content. People believe that the toxic content in the grass, which Yaks feed on, is infecting the Yaks.
"Since there is no concrete scientific proof about the origin and nature of the disease, we are doing the investigation. So far, the people are not seriously concerned about the Rhemney disease mainly because the disease is not contagious and do not kill animals in large numbers. So I think that's the reason why the disease has been neglected for a long time," said Trashigang's Veterinary Doctor, Jamyang Namgyal.
The group will also travel to villages in Sakteng Gewog to investigate the disease. The samples collected will then be sent to the National Center for Animal Health in Serbithang for tests.
The test result is expected to help them understand the source of the disease and ultimately find a cure for it.