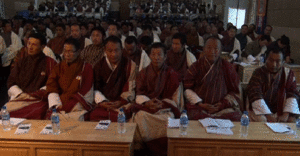 Wangdue Phodrang Dzongkhag is behind its target of achieving zero infant and under age-five mortality. The district saw five infant deaths and five age-five deaths, this year. "Delay in seeking health care was the reason," said Wangdue Phodrang's Dzongda, Sonam Jigme.
This factor, along with overall activities has placed the dzongkhag behind its target activities.
During its mid-term review yesterday, Sonam Jigme presented that his district has achieved 40 percent of its target. He said about 45 percent of the activities are well on track and almost nearing completion.
A few gewogs are also behind when it comes to livestock productions like egg and pork.
The dzongkhag was allocated over Nu 1 B for the 11th plan. As of now, it has received Nu 222.78 M of which Nu 206.755M has been utilized.
Lyonchhen Tshering Tobgay said he was concerned about the progress of the Wangdue Phodrang Dzong's reconstruction project.
Lyonchhen also recommended compensation for those affected by Punatsangchhu Hydro Power Project Authority's blasting. Some compensation is due for more than four years.
Sonam Jigme said 95 percent of the households are connected with proper sanitation facilities. Agriculture production such as, potatoes, chili, paddy and wheat is on track, he said.
Some of the major achievements, the dzongda highlighted were maintenance of six Basic Health Units, eight rural water supply schemes and maintenance of 32 rural water supply schemes. Achievements also include construction of 20 bio-gas plants, protection of 42 water sources, and maintenance of 52 irrigation schemes.
The district has constructed 58.12 kms farm road in 21 various areas and maintained 80kms of farm road.
Wangdue Dzongdag said the district has also implemented 177 projects through gewog development grant within less than two years.