Health team on a mission
Aug 20, 2015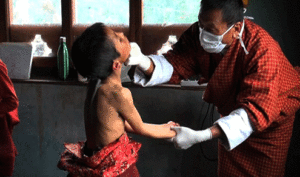 A health team, comprising doctors and health officials, in Trashigang, are on a mission to advocate people on the importance of knowing the status of their health. The team kicked off their pilot health camp from Merak Gewog on Monday.
Since most people in places like Merak Gewog lead a semi-nomadic life, they rarely visit health centres to avail health services, unless they fall ill.
A team of doctors and health officials are therefore taking healthcare services to the people through a health camp.
"We are carrying out different tests and checkups for non-communicable diseases," said the Trashigang's District Health Officer, Tshewang Dorji. He said they are also carrying out checkups for blood pressure, diabetes, and skin diseases.
Through the camp, the health sector hopes to understand the kind of health issues people in rural areas are facing and the kind of diseases they are suffering from. This, they said, will then enable the health sector to organize better health care activities in the future.
The Dzongkhag Health Sector in Trashigang and the Public Health Department under the Ministry of Health is jointly organizing the health camp. The camp will also be organized in villages under Sakteng Gewog.
Depending on the availability of funds, there are plans to take the camp to other gewogs in the dzongkhag too.