Punakha achieves 50% targeted activities
Aug 20, 2015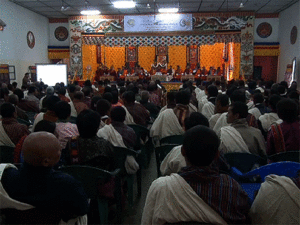 Punakha achieved more than 50 percent of the targeted activities in less than two years time, after the implementation of 11th Five Year Plan. The Punakha Dzongda, Karma Drukpa, and local leaders presented the dzongkhag's progress report to the government, yesterday.
The Prime Minister, Tshering Tobgay said he appreciates the dzongkhag's progress. Nu 806 M was allocated to the district to implement 11th FYP activities. The amount also includes Gewog Development Grant of Nu 44 M.
Punakha Dzongkhag has used about Nu 300 M already.
Some of the major achievements, the dzongda highlighted, were the construction of a Basic Health Unit in Toedpaisa Gewog and maintenance of three Basic Health Units.
The district now has five rural water supply schemes ready.
Three farm roads have been constructed and about 40 kilometres farm roads maintained.
Karma Drukpa also added the dzongkhag have constructed one irrigation channel and maintained 39 irrigation channels. Two motorable bridges and 149 projects were implemented with the Gewog Development Grant.
The activities behind the target are potato production, infant mortality and enrollment of non-formal education learners.