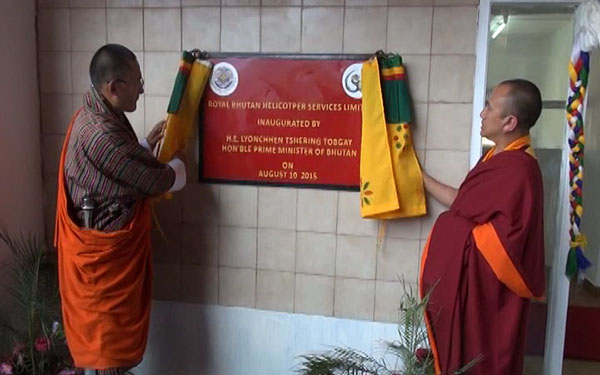 The Prime Minister, Tshering Tobgay inaugurated the office for Royal Bhutan Helicopter Services Limited at Paro Airport, yesterday. The state-owned Enterprise will however start its operation only from November 11 coinciding with the 60th Birth Anniversary of His Majesty the Fourth Druk Gyalpo.
The Royal Bhutan Helicopter Services Limited is expected to receive its first helicopter on November 3 and its second one in mid next year. A chopper will cost around USD 3.65 M.
Speaking at the ceremony, the Prime Minister said besides being of great use during emergencies, the helicopter service will also come in handy for the tourism sector and even the government.
"We have a Roadway of over 10,000 kilometres of road in our country which is useful to us, and still this is not enough. Our country though small is mountainous, and even when we clear our roads we are not able to do so as in the plains in other places, so one of the best alternative solutions is the airways."
Lyonchhen said tourists will want helicopter services for sightseeing. "They will also need it if they get sick while sightseeing the country. During disasters and emergencies, it is difficult to provide quick medical assistance without helicopter services."
The Prime Minister said the services could also be used to transport goods. "Whether they are election equipment or electric transformer substations, we need the helicopters."
CORRECTION: The government started the office for the Royal Bhutan Helicopter Services Limited and not the helicopter services as BBS had tweeted earlier. Errors regretted.