His Majesty graces the Namgay Tongchey prayers
Jul 20, 2015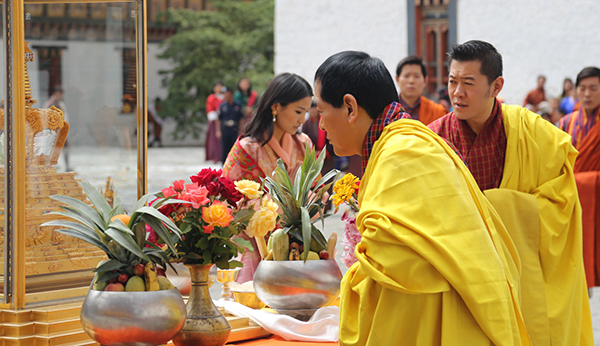 His Majesty the King, His Majesty the Fourth Druk Gyalpo, and Members of the Royal Family graced the Namgay Tongchey prayers at the Tashichhodzong to observe the First Sermon of Lord Buddha.
The auspicious drup tshe zhi marks the day of Lord Buddha's first sermon in Sarnath after attaining enlightenment.
On Saturday, His Majesty the King granted an Audience over lunch to the members of the Bhutan Earthquake Relief Medical Unit, which set up and operated a medical camp for Nuwakot District of Nepal following the earthquake of April 25.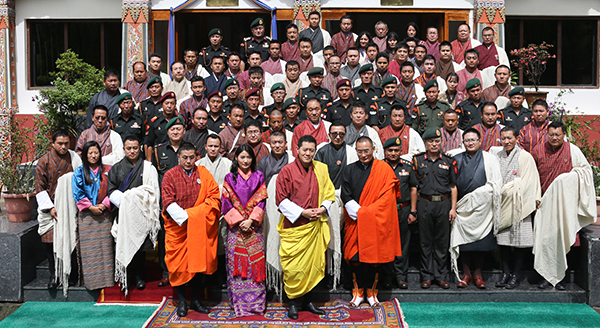 The team, consisting of Doctors, medical personnel, DeSuups, support staff from the Royal Bhutan Army, Royal Body Guards, and the office of the Gyalpoi Zimpon, was led by His Majesty's personal physician.
Upon the Royal Command of His Majesty the King, the Prime Minister, Tshering Tobgay travelled to Nepal to personally offer condolences and support to the government of Nepal and presented US$ 1 million as Bhutan's aid to the Prime Minister of Nepal, on April 27. A 63 member relief team, set-up upon His Majesty's Command, to provide medical assistance to the victims of the earthquake, accompanied the Prime Minister.
The relief team was deployed to Trishuli, in Nuwakot district, were the hospital had come to a standstill due to extensive damages.
The team, which was completely self-sufficient, built a camp on a public ground near the damaged hospital, and treated over 2000 patients. A second group of 15, including doctors, medical staff, and DeSuups, joined the Unit on May 5.
The team returned in three groups, the final group returning after more than a month in Nepal, on May 20.