Taktsang Zhenta Detsuen's positive impact
Yeshey Gyeltshen, Paro

Jul 16, 2015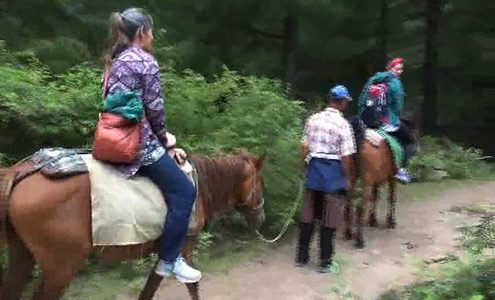 The coming together of horse owners, in Tsento Gewog under Paro Dzongkhag, to form an association, has brought about positive impacts in horse riding business.
The members say after the formation of the group, their riding business has become systematic and efficient.
"Previously, some would get to go around twice in a day, while some, who were shy and less experienced, wouldn't even get a single customer," said the group's chairman, Rinchen Dorji.
He said after the association was formed every member gets equal opportunities to make money since the horses are sent out in order of a list.
Horse owners of Tsento Gewog came together to form Taktsang Zhenta Detsuen in March, this year. The 27-member group has established an office at the base of Taktshang.
Members have to bring their horses and the office assigns them with their daily duties.
The group has around 170 horses which are assigned in order.
"I have to open the office by 6:30 AM. When customers come in, I take their order and distribute their orders accordingly," said the association's accountant, Thinley.
The horse-owners are now able to concentrate more on their services without having to worry about finding customers.
"Earlier when there was no group there were a lot of problems. We couldn't concentrate on the quality of our services. Since this group was started everything started to work smoothly," said a member, Phub Dorji.
Customers have to pay Nu 660 per horse regardless of the business season.
Horse-owners get Nu 600, while Nu 60 is deposited in the association's Bank account.
The group plans to initiate other small projects, such as a canteen, from the money saved in the bank.