We need a thromde: Pema Gatshel's local leaders
Jun 25, 2015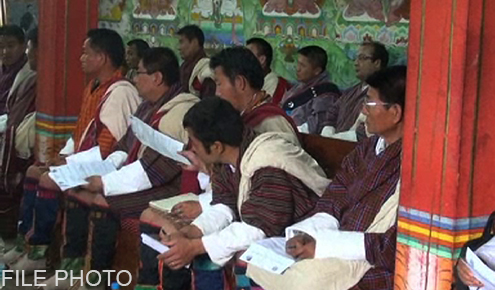 The local leaders of Pema Gatshel say parliament not endorsing a thromde for their dzongkhag is "a matter of shame". Pema Gatshel was the only dzongkhag that failed to get a Thromde of the 16 proposed in the last Parliament.
The decision came despite an endorsement from the Dzonkhag Tshogdue to establish Nganglam as the Dzongkhag's Thromde.
"When people question us, we are unable to give them an answer, because during the Dzongkhag Tshogdu, it was the three gups who decided that the thromde should be in Nganglam," said Chokhorling Gup, Tshetrim.
Decheling Gup, Sonam Rinchen said the land survey was also carried out to establish thromde in Nanglam. "But now, many people are blaming the local leaders after the National Assembly failed to endorse a thromde for Pema Gatshel."
However, before the Dzongkhag Tshogdu decided that the thromde should be in Nganglam, locals were divided. Some wanted it in Denchi while some said it should be established in Nganglam.
"Nganglam is accessible to people from the six neighboring dzongkhags. The government has also recognized it as an economic zone and is expected to be an industrial estate in the future," said Khar-Yurung MP, Zangley Dukpa. He also said the government should clarify that a Yenlag Throm would get equal benefits as that of Dzongkhag Thromdes.
Even after extensive deliberations in the parliament and consultations, the opinions still remain divided. Those residing in Denchi say they still want the thromde in Denchi and those in Nganglam say they should have it in Nganglam.
"Thromde should be set up in Denchi because the Dzong is also here," said Shumar Gup, Lepo. "During the meeting, majority vote went for Nganglam because there are more people in Nganglam."
A shopkeeper from Denchi, Tshering Choden said they do not have their representative from Denchi and that they were hopeful to get one after Denchi becomes a thromde.
"The government spent millions for the water supply and road in Nanglam. The Ministry of works and human settlement also decided the throm to be in Nanglam. The dzongkhag tshogdu meeting in 1987 also decided that Nanglam be developed as a thromde," said Norbugang Gup, Karma Rabten.
The issue will resurface in winter session of the parliament.