Foreign minister acquitted
Jun 23, 2015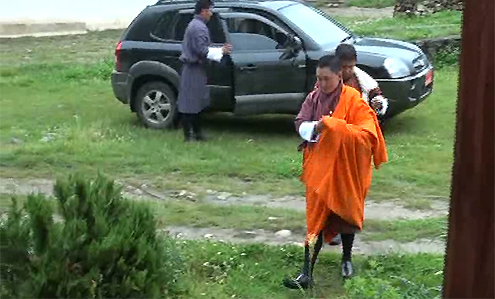 Haa District Court acquitted Foreign Minister, Rinzin Dorje of the alleged abuse of functions, related to Lhakhang Karpo's reconstruction, as the then Haa Dzongda.
The Office of the Attorney General had charged him of favouring a local saw-miller by awarding timber-sawing works, worth Nu 1.4 M, without the approval of the tender committee, for the renovation of Lhakhang Karpo.
The verdict, passed this morning, also says Lyonpo will have to pay Nu 4,166 as restitution to the government within 10 days. The penalty was imposed after the minister was not able to produce receipts for using government vehicle. Of the 10 trips, he could not produce receipts for two.
One of the allegations against the minister was that he used Dzongkhag DCM truck to transport timber from Haa to Thimphu for personal use.
The Project Manager, Wangchuk Tshering was also acquitted, this morning.
They had been fighting the case since February 9, this year.
Lyonpo Rinzin Dorje was allowed an "Authorised Absence" by the government to fight the case. The Prime Minister has taken over the portfolio of Foreign Minister since then.
The government had granted the minster "Authorised Absence" to prevent controversy and conflict of interest, seeing that the OAG will be prosecuting the case on behalf of the Government.
The Anti-Corruption Commission's investigation had also found out that the construction materials were siphoned off from the construction sites. ACC is also said to have uncovered use of substandard material and muster roll fraud, among other fraudulent activities.