Bhutan and India discuss exit/entry points
May 26, 2015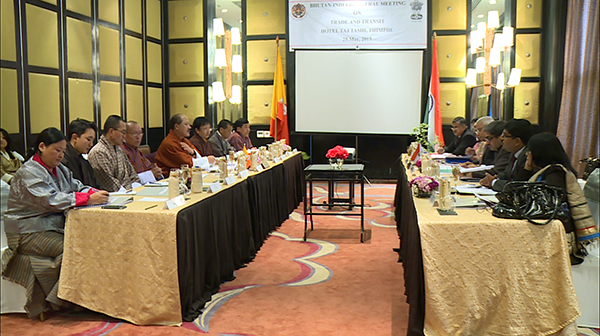 Of the remaining four seasonal exit/entry points Bhutan had sought from India, two have been called off and the other two are being studied.
During the Annual Bilateral Talks on Trade and Transit Meeting between Bhutan and India held in Capital, yesterday, economic affairs' officiating secretary, Sonam P Wangdi said India is finding it difficult to allow seasonal access to Bhutan through Bhairakhund in Assam and Jorlong in West Bengal.
In the last annual bilateral meeting, India had approved three seasonal exit/entry points of the seven requested. The three exit/entry points are Loksan and Nagarkata bordering Samtse and Kulkuli bordering Lhamoi Dzingkha.
The Officiating Secretary said India is going to explore Bhutan Ghat and Mathanguri in Assam.
During 2011 meeting, India had also agreed to look into four permanent entry/exit points; Upper Khogla, Dalmore, Bokajuli and Rangapani. India has said they will look into it.
Both the countries discussed the carry-over issues from last year's meeting. The talk included removing bottlenecks impending free flow of trade and two access roads Bhutan government had requested, among others.
The Officiating Secretary said the tender for Bulanchaupati in Pasakha has been floated and works for land customs station are underway.
Bhutan had also requested three more additional railways points. Of the three points, Indian delegation has agreed to explore the possibility of railways in Nautanwa in Uttar Pradesh.
They also talked about renewing trade agreement between the two countries, which expires in July 2016.