PM concludes his visit to the US
Mar 27, 2015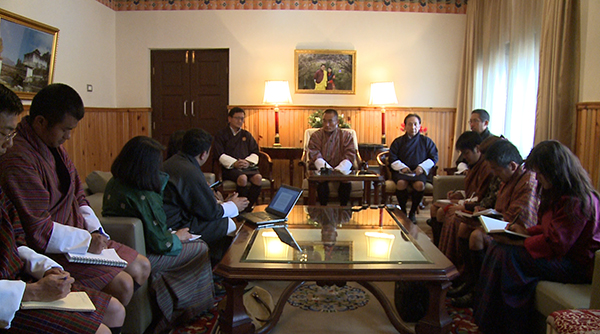 The Prime Minister, Tshering Tobgay concluded a ten-day visit to the United States to promote Bhutan for Life initiative. Lyonchhen arrived in the country, today.
A press release from the Ministry of Foreign Affairs says the 10-day programme included participation in high-level events, meetings, and media interviews in New York, San Francisco and Washington DC.
Bhutan for Life (BFL) is an initiative by the government and World Wildlife Fund to ensure sustainable financing for the conservation of Bhutan's protected areas and biological corridors.
The release says the financing mechanism would enable the conservation of 6 million acres of forests and other natural habitats. It seeks to integrate conservation with sustainable economic livelihood of the communities living in the protected areas and biological corridors.
The press release says Lyonchhen highlighted the pioneering and instrumental role that His Majesty the Fourth Druk Gyalpo played in the success of Bhutan's environmental policies.
Bhutan's environment policies dates back to the 1970s, when His Majesty the Fourth Druk Gyalpo made conservation of the environment a key pillar of Bhutan's Gross National Happiness development philosophy.
Lyonchhen pointed out that Bhutan currently exceeds the constitutional requirement by 10 per cent and remains home to the highest percentage, more than 51 percent, of protected land in Asia.
Lyonchhen said that Bhutan views its constitutional obligation to protect the environment "as a privilege and not something extra we have to do" and that the country "was privileged to be a custodian of the world's natural heritage."
In his various interactions, Lyonchhen talked about Bhutan's democratic process and various socio-economic challenges that it is confronted with as a developing country undergoing rapid change.
"We have worked diligently to protect our parks with partners like WWF. But we see changes in our country, competing demands. So something has to give. We do not want it to be our system of protected areas."
He said the next chapter of Bhutan's sustainable development required careful and innovative approaches to uphold the country's commitment to the environment.
During his visit, Ms.Nisha Desai Biswal, Assistant Secretary of State for South and Central Asian Affairs called on Lyonchhen. He also met with Dr. Jim Yong Kim, President of World Bank and Mr.Ban Ki-Moon, Secretary General of United Nations.
Lyonchhen visited the headquarters of Google, Facebook, and Tesla where he met with senior executives to explore how they could support Bhutan's broader socio-economic development efforts. He also visited start-up companies manufacturing micro and mini hydropower turbines and unmanned aerial vehicles to see how ideas are translated into products in Silicon Valley.
Lyonchhen was accompanied by a delegation from the Ministry of Foreign Affairs and the Ministry of Agriculture and Forests.