Bangladeshi Community celebrates Independence and National Day
Mar 26, 2015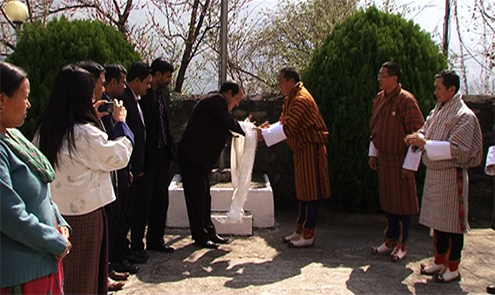 Bangladeshi Community in Thimphu celebrated its 44th Independence and National Day at the Bangladesh Embassy in the capital, today. Senior officials representing the Royal Government of Bhutan also attended the celebrations.
The celebration began with hoisting of Bangladesh's National Flag by the Bangladesh's Ambassador to Bhutan, Jishnu Roy Choudhury.
The Ambassador, read out the Bangladesh's Prime Minister, Sheikh Hasina's address to the nation. The message highlighted Bangladesh's history, economy, achievements and challenges.
The ambassador was then presented a Tashi Khaddar by Zimponwom, Ugyen Sonam on behalf of the Royal Government of Bhutan.
The day commemorates the country's declaration of Independence from Pakistan on March 26, 1971.