Foreign Minister contests charges in Lhakhang Karpo case
Feb 27, 2015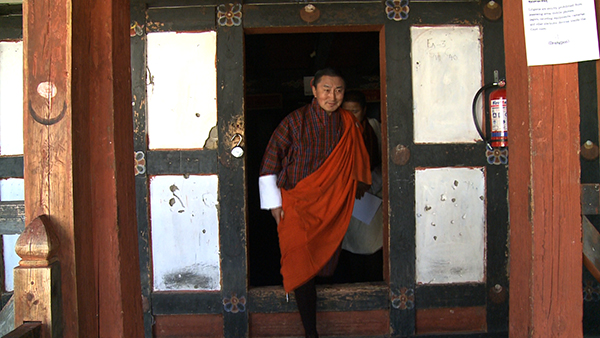 The Foreign Minister, Rinzin Dorje said the basis under which he was charged did not lead to any violation of laws, rules and regulations. The minister, who has decided not to take a lawyer, was submitting his opening statement to the Haa District Court on Lhakhang Karpo case, today.
The statement was in response to the charges that were read out against him by the Office of the Attorney General (OAG), two weeks back.
OAG had charged him of favouring a local saw-miller by awarding timber-sawing works, without the approval of the tender committee, for the renovation of Lhakhang Karpo.
The minister was also charged of misusing the Dzongkhag DCM truck to transport timber from Haa to Thimphu for his personal use.
The minister, said timber-sawing work was awarded to the lowest bidder, LD Sawmill since the committee wanted the work done at the lowest possible cost given increased cost of construction materials during the time.
He also refuted the allegation of favoritism. Lyonpo said he was neither familiar with LD Sawmill nor knew anything about it. As a chairman of the committee, he held some discretion in choosing the bidder, he said.
Lyonpo Rinzin Dorje also requested the court and the prosecutors from the Office of the Attorney General to carefully bifurcate the two charges, since the charges were different in nature.
In response to his other charge of using the Dzongkhag DCM truck, he said, government rules and regulations with regard to pool vehicle allowed a civil servant to use government vehicles under certain conditions.
Outside the court, the minister said, he had all his records of paying for the fuel and travel allowances while using the truck.
Lyonpo said he had not violated any laws and whatever was done was done within the premises of the law.
The Office of the Attorney General will submit their rebuttal, based on the minister's statement, on March 4.