Pasakha residents fear health implication
Feb 26, 2015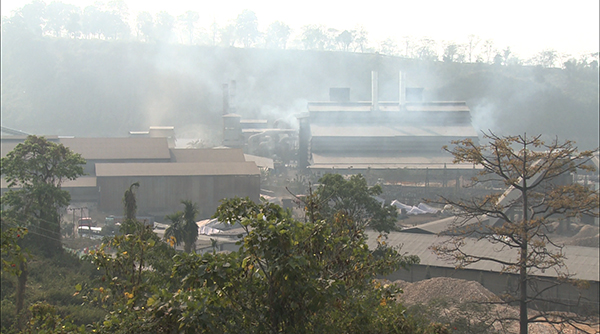 The residents of Pasakha say they are worried about the impact of worsening pollution in their area on their health and environment.
They say they constantly catch cold because of dust pollution. "There is a lot of dust and smoke here in Pasakha compared to other places," said one of the residents.
She also said orange yield in villages have drastically declined. "Even the vegetation is dying. We don't know if it is because of smoke from the factories."
There are more than 26 factories in Pasakha, making it the most polluted place in Bhutan, according to the National Environment Commission.
However, there is no record of number of households in Pasakha.
The National Environment Commission (NEC) says they have been taking necessary measures to control the pollution. It is mandatory for all the factories to install a pollution control device.
Saint-Gobain Ceramic Materials Bhutan's Senior Manager, Rajendra Acharya said measures to control pollution were put in place during designing stage of the factory. He also said their factory has a mechanism to filter fine dust particles and let out clean air through a chimney.
Rajendra Acharya also said they submit pollution report to the NEC on a monthly basis even though they are required to do it once in three months.
The National Environment Commission and Ministry of Economic Affairs inspect industrial pollution alternately, every month.
The officials from NEC said they monitor if the Gas Cleaning Plant of each factory is operational. The Gas Cleaning Plant sucks in industrial emission and gives out clean air.
The Phuentshogling Thromde is also worried about the air pollution.
"Our problem is now that area has come under Phuentshogling Thromde and once it comes under Thromde you have to prepare local area plan and you have to enable them to construct houses because the main purpose of including an area into urban is basically for human settlement," said Phuentshogling's Chief Urban Planner, Tshering Phuntsho.