Maximum chorten vandalism took place in the East
Feb 25, 2015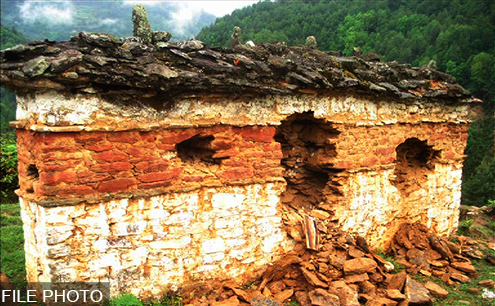 Maximum number of chorten vandalism took place in the Eastern Dzongkhags, particularly Monggar and Trashigang in 2013-14.
In Monggar, 43 chortens were vandalized, last year, and 54 in 2013. Trashigang saw 35 cases of chorten vandalism, last year, and 58 in 2013.
Records maintained with the police show an increase of 32 cases of chorten vandalism last year from that of 2013. In 2013, 210 chortens were vandalized in the country.
No concrete research has been conducted to figure out the attack on chortens. However, police say many chortens are vandalized for nangtens or the sacred relics. They also said most chortens are located in far-flung areas and are old, making them susceptible to vandalism.
The Penal Code of Bhutan states that offences against Ku Sung Thukten or Zungs are a punishable offence with the felony of first degree. A person convicted of such offence will have to serve a minimum person term of 15  years and maximum of life-imprisonment.
The Prime Minister, Tshering Tobgay, during His Majesty's Birth Anniversary celebration last week, said over 4,200 chortens will be renovated over the next one year.
There are more than 8,000 chortens in the country.