The Himalayan Third Pole Circle meeting begins
Feb 5, 2015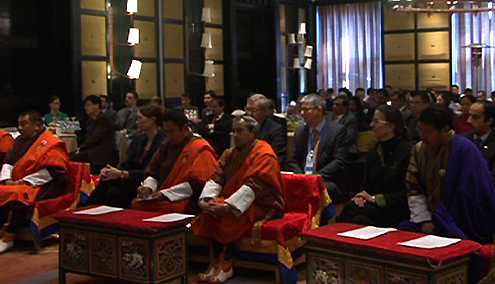 The President of Iceland, Dr. Olafur Ragnar Grimsson said his Journey to Bhutan and commitment to the Himalayan-Third Pole process are inspired by the belief that coming together can help in learning from each other. He was speaking at the Himalayan Third Pole Circle meeting which began in Thimphu, today.
Dr.Grimsson said there is mounting evidence of how the retreating glaciers will impact the rivers and water systems in the Himalayan countries directing attention to dramatic consequences for food and energy production, security and international relations.
"There is need for sharing data and research across national boundaries…It was important to have meaningful understanding, informing policies and actions."
ICIMOD is also participating in the meeting by providing its institutional strength and advanced knowledge. ICIMOD's Director General, David Molden said Bhutan will face similar challenges to that of the other Himalayan regions.
The Himalayan Third Pole circle also aims to initiate and sustain regional and international dialogue and collaboration on the challenges that climate change presents to the Himalayan regions.
During the meeting, Lyonchhen Tshering Tobgay said climate change is a huge challenge which would lead to floods, famine and other disasters. Lyonchoen urged for the need to work together to save the Himalayan region and people.
The meeting is expected to lead to the formulation of an informal roadmap. The roadmap would outline further progress advancing permanent structures of cooperation amongst the Himalayan Third Pole nations and communities. Specific challenges and concerns would be also analyzed by the experts.
The meeting is organised by the National Environment Commission in collaboration with ICIMOD.