Paro United Football gets an entry in the National League
Jan 30, 2015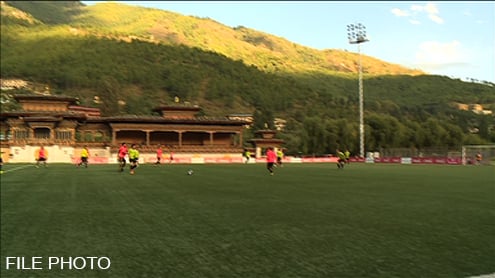 Paro United Football is the newest club to get an entry in the National League. The club was given an entry without having to play qualifying rounds as it was the only club to come forward to register from Paro.
National League is one of the prestigious football leagues in the country. A club has to fulfill the required criteria of Bhutan Club Licensing System and be registered with Bhutan Football Federation to be part of the league.
Bhutan Football Federation's Competition Officer, Kinley Dorje said the federation had given a direct entry to Paro United Football upon fulfilling the basic requirements.
Kinley Dorje said they applied just the basics of club licensing system to register Paro United Football. He said the basics include management and a letter from the owner of the club. He also said the club should have Asian Football Confederation 'C' license-holder coach, under-15 youth team, and a copy of contract agreement between players and the club.
However, in Thimphu the clubs will have to play qualifying rounds as there are eight of them. He said had there been two clubs from Paro, they would have had to compete in the qualifying rounds.
Seven clubs from Thimphu, Phuentsholing, Punakha and Paro are participating in this year's National League which is scheduled to kick off in July until September.
The matches will be played at home grounds and away. The National League started in 2012.