Pasakha-Manglabari bypass road gets go-ahead signal
Sonam Wangdi, Phuentshogling

Jan 29, 2015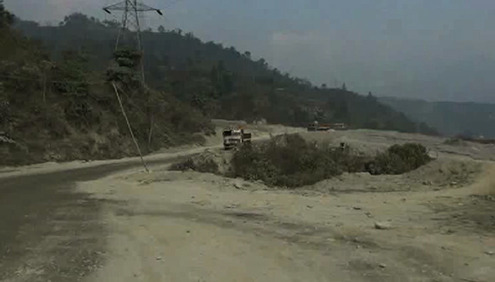 The much-talked about bypass road to Pasakha from Manglabari in Jaigaon, India, is finally through. Phuentshogling Thromde officials say works are expected to begin soon and that they have been notified by the Indian counterparts.
With this impetus, the perennial traffic congestion problem will be eased, say the officials. Along with the bypass, the thromde is also coming up with other plans to address the issue.
The traffic congestion is at its highest, especially between 8 and 10 AM and 4 to 6 PM.
Vehicles, heavy and light alike, have to ply through the same road because of just one entry and exit gate.
About 200 trucks ferry raw materials to Pasakha every day. This further aggravates the situation.
However, with the coming up of the bypass from Birbari, an Indian settlement about seven kilometres away from Phuentshogling, the traffic congestion is expected to ease.
Phuentshogling Thromde's Executive Secretary, Tharchin Lhendup said the bypass will be from Birbari, which is just above Dalsingpara. He said it is funded by Asian Development Bank. "It is being taken care by the government of India. I believe it has been already handed over to the PWD West Bengal."
The PWD West Bengal has already tendered out the work to the contractor. "They are just waiting for the land issues to be resolved in that area. It's about 6.4 kilometres from Birbari to Pasakha," said Tharchin Lhendup.
To monitor the bypass, a customs station will be constructed at Alley in Pekarzhing, Pasakha under the South Asia Sub-region Economic Cooperation project. The Asian Development Bank will fund the construction.
Other plans, under the same project, include the development of a mini dry port near the State Trading Corporation Limited and also a northern bypass. Once the mini dry port is ready, truckers need not come to customs office for clearance, which today is located in the town area. This is expected to further decongest the traffic.
The project is expected to be complete by 2018.
The executive secretary said they have been awarded 10 M USD for these projects.
Tharchin Lhendup said the consultancy recruitment has already started. "In fact we have already opened the technical tender and the financial one will be opened on January 30." He said they will recruit a consultant who will carry out the estimate and design activities, a month later. They will then recruit contractor to carry out the activities.
Also, talks are underway to open second international border gate near the mini dry port. The ministry of Home and Cultural Affairs is taking up the issue with the Indian government.