Rural-urban migration impacts Nabji and Korphu
Jan 23, 2015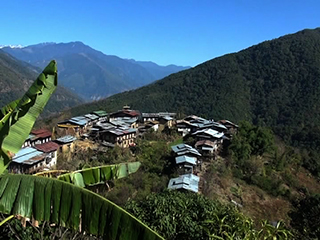 Rural-urban migration has not spared Nabji and Korphu villages in Trongsa. About a dozen houses of the 65 houses are empty in Nabji and 22 out of 81 houses in Korphu are empty.
Most of the houses have been empty for more than 15 years, according to the village elders of Korphu.
Even though the rural water supply scheme and electricity connections have made it to the villages, the facilities have not been enough to retain people.
Education is one of the reasons why people left, said a farmer of Nabji, Changala. "Once people get educated, they never want to return to the villages as they do not want to toil in the field."
Korphu's Tshogpa, Sangay Dorji said people were getting tired of Woola- labour tax, that each household had to contribute. He also said there was no source of income then and the road head was far away from the village. "People did not want to suffer. That's why they left."
Those who have been left behind are bearing the brunt of rural-urban migration. The land, of those who have left, have turned fallow and are covered in bushes attracting wild animals.
The villagers also say they have to bear the burden of chipping in for the contributions while holding religious rituals among others.