Ability Bhutan Society creates awareness in Samtse
Jan 23, 2015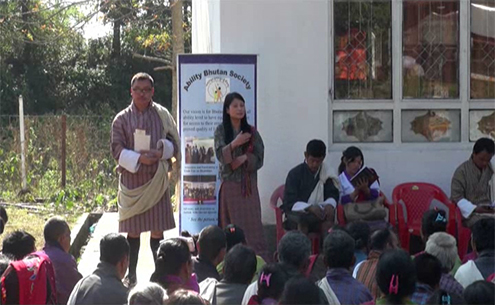 In an effort to support and educate parents and community members about disabilities, the Ability Bhutan Society, a Civil Society Organisation, recently conducted advocacy and awareness programme in Samtse Dzongkhag.
Ability Bhutan Society or ABS established in 2011 is an organisation that advocates meaningful inclusion opportunities, for people living with disabilities, into the community.
"We have seen cases where children with disabilities were either locked-up or beaten and separated," said ABS Social Worker, Chogyel Rinzin. He said as they went around advocating and creating awareness on disabilities, they had parents and community members come up to them saying they will not ill-treat children with disabilities, henceforth.
Parents of children living with disabilities said lack of understanding or knowledge in community and sound financial status are the problems they encounter when dealing with persons with disabilities.
"We had admitted our son, who has been paralysed since the age of two, in Thimphu hospital for a year. We could see the improvement in his health but we had to bring him back to Samtse because it was getting expensive living in Thimphu and treating him," said Tham Raj Rai, a local resident.
ABS plans to promote early identification and initiate early interventions on disabilities, initiate child aide training programs with centers outside Bhutan, and expand their services to other Dzongkhags.
ABS currently has 74 registered members of which 28 are active beneficiaries of their services.