Yonphula Domestic Airport's suspension impacts business in Trashigang
Jan 1, 2015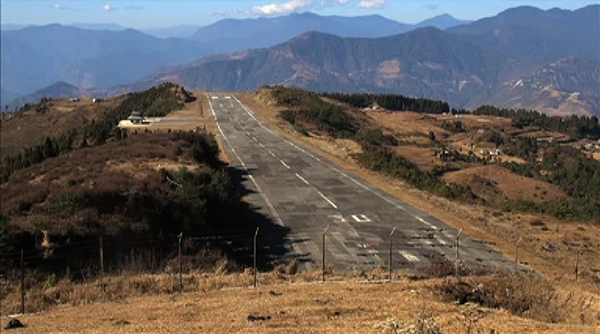 Ever since Yonphula Domestic Airport has been closed for maintenance, tourists' hotels in Trashigang are seeing a drastic drop in the number of tourists.
The last flight the airport saw was on October 11, 2014. And, it will be another two years before a plane lands on the airstrip again.
Lingkhar Lodge is one of the two main tourists' hotels in Trashigang. The owner had invested quite a sum building the lodge.
A staff of Lingkhar Lodge, Kuenzang Choden said only a few tourists came to Trashigang after the airport was closed. "My friends, who were employed here before me, told me the lodge used to be booked out, especially during Tshechu."
Lingkhar Lodge has employed 15 youth. "If the airport does not become operational soon, some of us may even lose our jobs," said the lodge's Receptionist, Pema Choden.
Druk Deothjung Resort's Proprietor, Kuenga said he has invested more than Nu.60 MN to construct the resort. He said the tourists visiting his lodge dropped by almost 50 percent, this Tshechu.
"If this is the situation, I will not be able to pay back the monthly installments."
The Department of Civil Aviation had earlier floated the tender. However, not a single qualified contractor came forward to bid. The department retendered again in November.
The Department of Civil Aviation's Director, Wangdi Gyeltshen said they are going to open the tender this month. "By February, we will be done with evaluation and send it to ADB for review and approval."
He said they should be able to award the work by February end or early March. "The duration of the contract is 18 months."
Wangdi Gyeltshen said they will try their best not to prolong. "The people of East should look forward to fly by August-September, 2016."
Yongphula Domestic Airport was inaugurated on December 17, 2011. The airport will be renovated with financial support from Asian Development Bank of USD 3.93 MN.