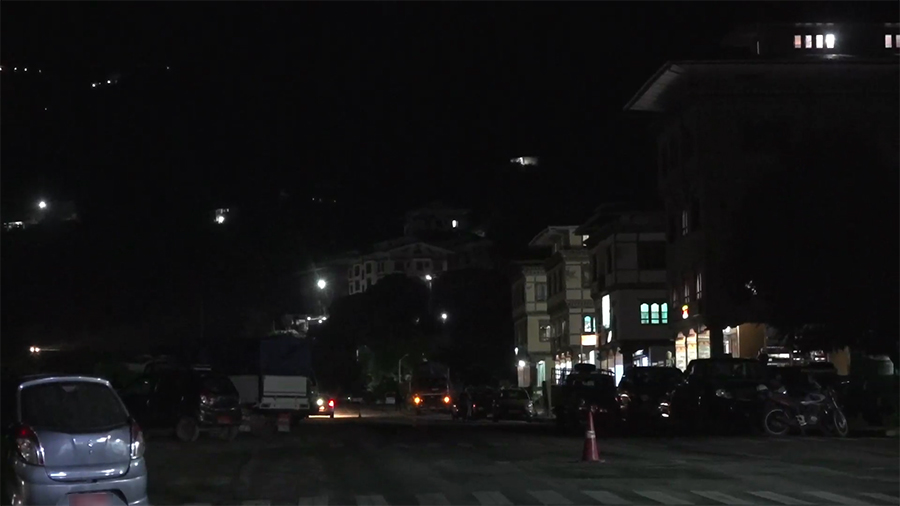 Khuruthang town in Punakha is undergoing a facelift and the developmental works are almost complete. To add to the revamping works, the residents in the town are calling for streetlight facilities. The residents say the streetlights will improve visibility at night and also act as a crime deterrent.
Residents and travellers commuting within the town after sundown say that roadways and sidewalks become dark and risky, late into the night.
According to sources, larceny and fighting cases in the town have been increasing over the years.  This has alerted the residents who are now requesting the installation of streetlights in the town.
Phub Dorji, a taxi driver said, "since there is no light in the town, there are chances of unknown strangers attacking us at night and they could vandalise our vehicles. There are cases of passengers misplacing their luggage. For instance, some of them had put their belongings in one taxi and then they entered another taxi and left for their destination."
"We also do not have streetlights at the bus station and there are chances of people losing their goods. Likewise, the elderly people could injure themselves by falling down in holes on the way," said Kinzang, a taxi driver.
"Since the road is dark, sometimes we can't see people crossing the zebra cross. We could hit them. Just recently, I almost hit a boy. The boy was wearing a black dress and he suddenly appeared in the darkness," said Kinzang Wangchuk, who is also a taxi driver.
Sangay Wangdi, a businessman said, "recently someone broke the windshield of my friend's car. When we asked around, it was done by some people who were drunk. Some customers even run away without paying and we can't see them in the dark."
Some women who refused to comment on camera say, they do not feel safe walking around once it gets dark.
Similarly, waste management issues are increasing in the town in the absence of streetlight facilities.
The Khuruthang Municipal Office said the town does not only require streetlights but also CCTV cameras. However, due to budget constraints, the office is not able to provide the facilities.
Municipal Engineer Kencho Dorji said, "we have proposed a budget of 10.2 million ngultrum, but all of that is not required for streetlights. So, we have also included the installation of CCTV cameras in the proposal. Therefore, we are planning to install all the streetlights with CCTV cameras within the 13th Five Year Plan."
The office is now wrapping up the development work. It now has spacious footpaths, sewerage canals and service ducts with blacktopped internal roads.
Changa Dorji, Punakha
Edited by Sangay Chezom