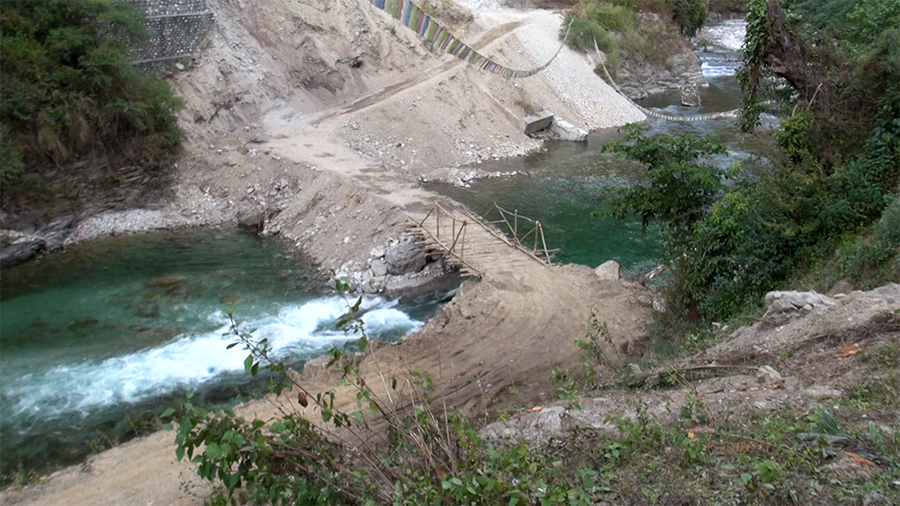 A restored motorable bridge over the Nyera Ama River was a long time coming for the people of Thrimshing Gewog in Trashigang. This is because the bailey bridge had long collapsed, more than a year ago. With the fourth National Assembly Elections approaching, the restoration could not have been timed any better. People from the nearby villages came together to build a temporary wooden bridge recently.      
A bailey bridge constructed around six years ago collapsed due to incessant rainfall in June, last year.
The bridge connected the people of Thungkhar-Berdungma and Yemkhar-Ramchongma chiwogs to the Thrimshing Gewog centre.
Without the bridge, people have to either use this old suspension bridge or take a detour via Berdungma road to reach the gewog centre.
However, with water levels of the Nyera Ama River subsiding, it has allowed people to restore vehicle traffic over the river.
The new wooden bridge is expected to benefit the local residents and also officials deployed on duty for the National Assembly Elections.
"Living without a bridge is difficult. However, this is a problem which can be solved. Now, light vehicles like Boleros can cross the river using the temporary bridge and it has benefited us a lot. However, it is only a temporary measure and we will not have to use the wooden bridge for years," said Namgang, the Bongzor_Phegpari Tshogpa.
"We heard that a bailey bridge is soon going to be constructed but we do not know when the works will begin. Right now, transporting a truckload of sand from Trashigang costs nearly Nu 20,000 while it costs around Nu 5,000 from here. This is too costly for farmers like us. Some have even stopped construction works without a bridge to transport sand," said Pelzang, a resident.
The Thrimshing Gewog Administration said the office is carrying out tendering works for the reconstruction of the bailey bridge.
The administration added that construction work would begin soon after all the tendering procedures are complete.
The gewog office said the temporary bridge is only for light vehicles and it would only last for another five to six months.
The temporary bridge was constructed with a budget of about Nu 100,000 from the gewog with labour contribution from the people.
Sonam Darjay, Trashigang 
Edited by Kipchu