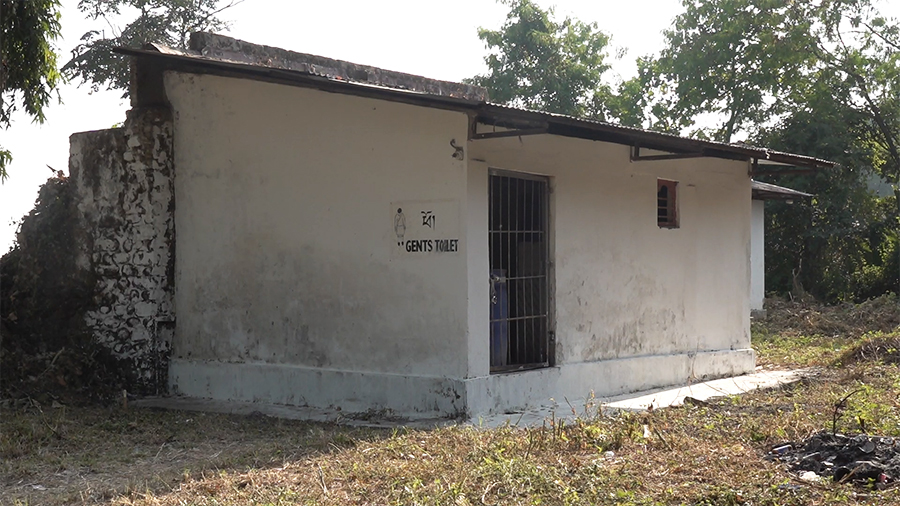 In Samtse, residents are expressing dissatisfaction with the deteriorating condition of public toilets at the public ground. Despite being a crucial facility, the toilets remain unhygienic and inaccessible most of the time, causing inconvenience, especially during public gatherings and events.
The five small public toilets located at the artificial football ground were constructed to serve the community during events and gatherings.
However, the reality paints a different picture.
Residents have raised concerns about the lack of cleanliness, making the toilets unhygienic for use.
The situation further worsens during football tournaments and mega events at the football ground as people find it extremely filthy to use.
"Whenever we come here to play or watch football matches, we find the state of the toilet in a very poor condition. We can see bottles and even shoes thrown all over the toilet areas," said Bhim Lal Tamang, a resident.
Volunteers occasionally step in to clean the toilets, but their efforts are deemed inadequate by the community.
"We recommend the municipal office to hand over the public toilet to private individuals. The private individuals will collect a minimal amount from the people coming to the football ground to play and watch matches. That way a private individual will be able to make some income and also keep the toilet clean," said Shyam Lal Limbu, a resident.
The municipal office, responsible for maintaining these public facilities says there is a shortage of staff to maintain hygiene at the moment.
Despite the suggestion to hand over public toilets to private individuals, they say that even the Samtse town's public toilet struggles to generate sufficient revenue due to fewer users.
The municipal office acknowledged that the toilets are only occasionally cleaned during public gatherings.
However, the office also cited poor public cooperation, including acts of vandalism and theft of water taps, as ongoing challenges.
They say such actions forced the municipality to keep the toilets closed for public use most of the time.
However, the municipal office plans to hand over the responsibility of maintaining the toilets to the Bhutan Football Federation, which oversees the football ground.
Additionally, there are plans to renovate the public toilets soon.
The toilets were constructed in 2015 and 2017 at a cost of over Nu 1.4 M.
Passang Dorji, Samtse
Edited by Phub Gyem