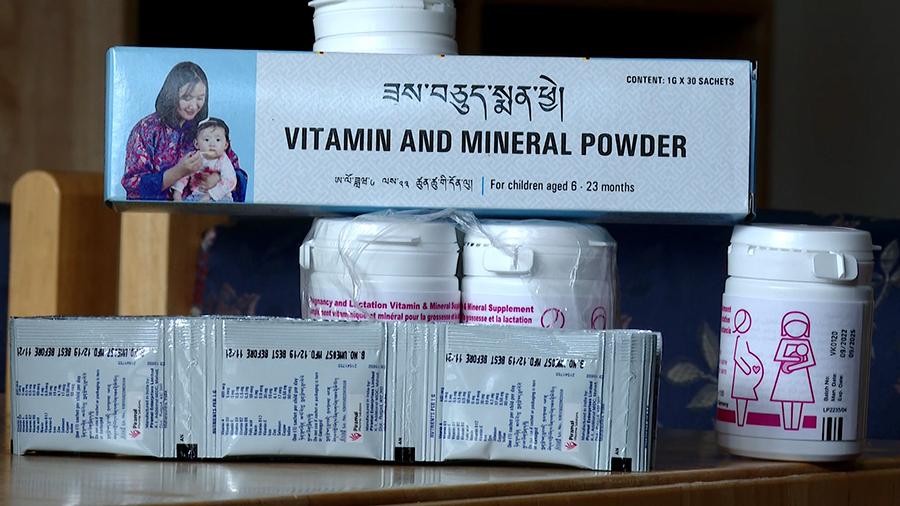 To improve maternal and child health, the health ministry will soon start providing pregnant women with multiple vitamins. The initiative, part of the Comprehensive Mother and Child Health Programme, will distribute Micro Nutrient Supplement tablets to pregnant women for daily consumption throughout their pregnancy period. Each tablet contains 15 different vitamins that are crucial for a child's cognitive development, and organ growth, to prevent stunting and reduce infant mortality rates. 
The health ministry said that all pregnant women will receive the multivitamin tablets once the distribution to all the health facilities in the country is completed.
As part of the programme, powder vitamin tablets will also be provided to infants for up to six months after delivery.
"This intervention specifically has two proven benefits among many others. One is to reduce the risk of "small for gestational age" babies. The second is to reduce the risk of low birth weight babies," said Hari Prasad, a nutritionist of the health ministry.
The public welcomed the initiative.
"As a parent, we get worried when a child is born unhealthy. However, if this kind of multivitamin is provided, this will help the mother to give birth to a healthy child," said Karma Yuden, a mother.
"This initiative is a great opportunity for the mothers and especially our infants. I did not get the opportunity to take this kind of vitamin when I was expecting but now if I want to become a mother, I am confident with the services the government is starting to provide us with," said Sonam, a mother.
"I think that it is a great service from the ministry's side to introduce such vitamins to the pregnant women in the country. It will appear as a blessing to both parents and the children when children will be born healthier," said Kezang Phuntsho, a parent.
"I am glad to hear about the upcoming multivitamin for mothers during pregnancy and the baby after delivery. I am thinking that if I can give the vitamin along with other vitamins like cauliflowers, beans, and broccoli, it would be more effective for the child. There is nothing nicer than seeing our child grow healthy," said Mon Maya Tamang, a mother.
These vitamins which are manufactured in Germany are given to Bhutan by UNICEF, spending over Nu 5 M annually.
The health ministry also plans to carry out advocacy programmes regarding the vitamins around the country.
Namgay Dema
Edited by Phub Gyem