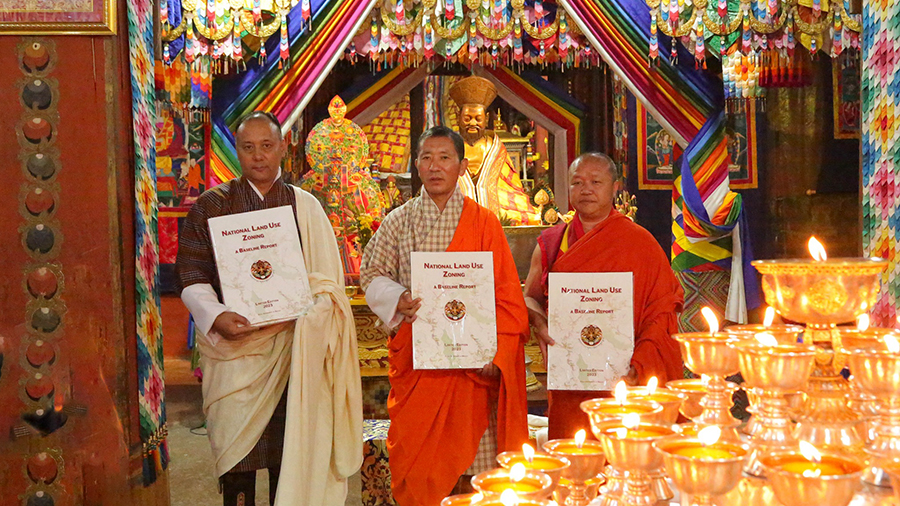 Picture Courtesy: National Land Commission
To promote the sustainable use of the country's lands, the National Land Commission Secretariat or NLCS has launched the National Land Use Zoning Baseline Report. The report was launched by the Prime Minister in the capital today. The report, the first of its kind, provides an analysis of land use patterns and zoning in the country. The report is being dedicated to the birth of Her Royal Highness The Princess.
According to the National Land Commission, land use conflicts are a concerning issue due to improper planning of infrastructure development in the country.
The report is expected to be a reference for stakeholders in resolving the misuse of land.
The report analyses land use issues and recommends land use way forward.
"There are approximately 450,000 acres of land use conflicts still prevailing in the country. Our objectives are threefold: firstly, to comprehensively resolve these conflicts among the sectors; secondly, to establish a seamless data-sharing platform that will support decision-making and planning; thirdly, through this exercise, we aim to ensure the creation of a certain land stock," said Gonpo Tenzin, the chief programme officer of NLCS.
Although the idea for the report was conceptualised back in 2018, officials said that technical issues and the COVID pandemic hampered the work.
The Land Commission has been working with relevant sectors for over the past six months.
"Land, by its nature, is cross-sectoral, and it is important to engage as many sectors as possible. Therefore, we have collaborated with approximately 12 sectors to conduct this zoning exercise. It is a collaborative effort between the National Land Commission Secretariat and these 12 sectors," said Gonpo Tenzin.
The Land Commission has plans to come up with more detailed reports in the coming years.
Tashi Dekar
Edited by Tshering Zam