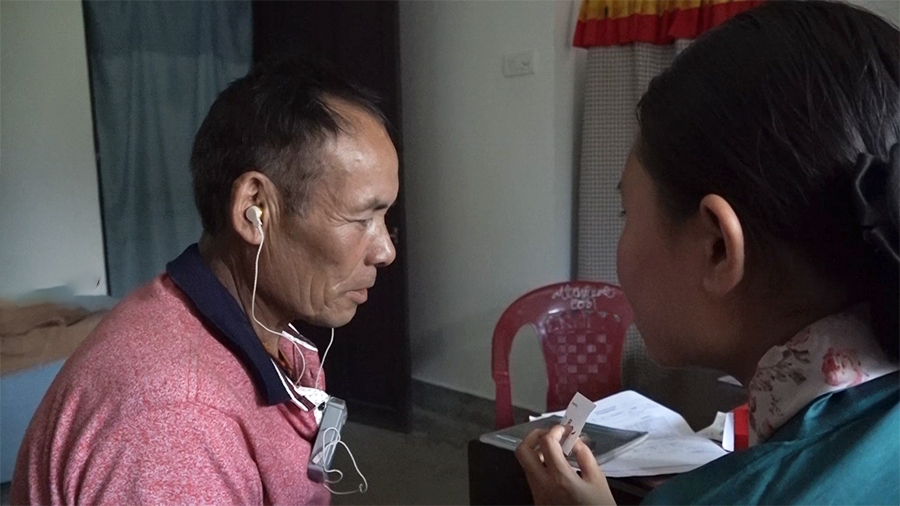 In an effort to assist with hearing and communicating, the Ability Bhutan Society has provided assistive hearing devices to people in rural villages in Zhemgang. This has improved the lives of more than 70 people who had hearing difficulty for years. Assistive listening devices are portable systems that help individuals with hearing loss communicate more effectively. 
68-year-old Tsewang Norbu from Buli village had difficulty hearing for many years. He says it was challenging for him to communicate.
However, upon receiving the assistive hearing device on Monday, he says he can now hear sounds including birds chirping.
"Although I am old, I feel happy that I am able to hear."
Similarly, a few other people from Buli village also received the devices.
"I had difficulty hearing since 15 years of age. Although I can hear loud sounds during the meetings and gatherings, I cannot hear when people call me," said Dechen Wangmo, a resident.
"Now I can communicate using mobile phones and I would like to thank the Ability Bhutan Society. We do not have to travel far away for treatment. It is of an immense help," said Kezang Choden, another resident.
According to the Ability Bhutan Society (ABS), they distributed the devices to those in need. The officials also taught them how to use the device.
"This year, we are providing 76 medical assistive devices to people here in Zhemgang and mostly, people who received these devices are elderlies. By providing various hearing aids, people with hearing impairment will be able to communicate and participate effectively in the community," said Sanjana Gurung, Project Coordinator of ABS.
According to data from a baseline survey conducted by Ability Bhutan Society, Zhemgang had 305 people living with disabilities.
The distribution of devices is being supported by Germany's Federal Ministry of Economic Cooperation and Development.
Pema Samdrup, Zhemgang 
Edited by Tshering Zam