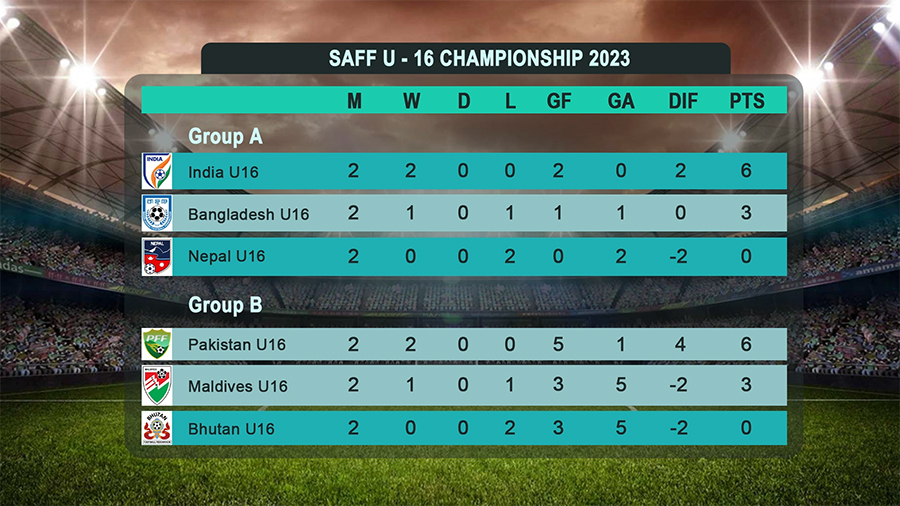 After Bhutan's journey in the ongoing SAFF under-16 Championship came to a heartbreaking end, yesterday, it will now be Bangladesh, India, Pakistan, and the Maldives in the semifinals. The semifinal lineup was decided after Bhutan lost to the Maldives two-three and India defeated Nepal one – nil at the Changlimithang Stadium, yesterday.
Over 5,000 spectators flocked to the Changlimithang Stadium to cheer the Bhutanese boys through to the semifinals.
However, despite vocal home support, Bhutanese boys bowed out of the championship following a spirited performance.
Bhutan's defeat, yesterday, followed a narrow two-one loss to Pakistan in the opening group match.
Of the six teams, it is Bhutan and Nepal, who have exited the championship.
The Indian team after defeating Bangladesh and Nepal in the Group A matches, will now face Group B runners-up, the Maldives in the semifinals, tomorrow.
Similarly, Group B winners, Pakistan, will take on the Group A runners-up, Bangladesh in the second semifinal match, tomorrow.
The final showdown of the SAFF under-16 Championship will take place on Sunday at 6 PM at the Changlimithang Stadium.
The eighth edition of the South Asian Football Federation under-16 Championship is the first international tournament Bhutan is hosting after the pandemic.
Karma Wangdi
Edited by Sherub Dorji