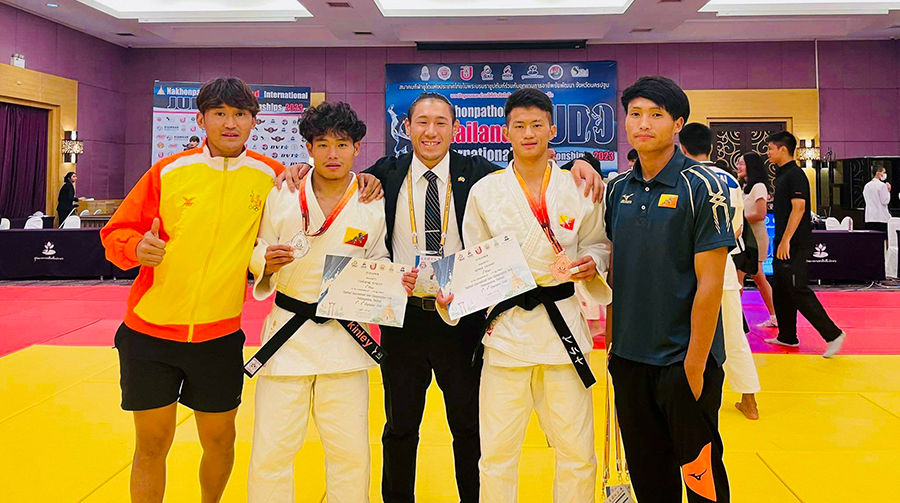 A team of four judokas represented Bhutan at the Thailand International Judo Championship 2023, in preparation for the 19th Asian Games, which will begin later this month in Hangzhou, China. The Judokas managed to bag a silver and a bronze medal at the championship. Despite the recent success, the judokas are now focused on the Asian Games. Three judokas will represent Bhutan at the Games. 
Kinley Tshering bagged the silver medal in the 66-kilogramme category at the Thailand International Judo Championship, while Yeshay Nidup won the bronze medal in the 55-kilogramme category.
Meanwhile, Ngawang Namgyel lost a closely fought match with his opponent from the Philippines in the 60-kilogramme category.
Tandin Wangchuk competing in the 73-kilogramme category could not win a medal but won two games out of four.
The team was led by Japanese Coach Yuki Fukui.
"In this tournament, we got good results. We are preparing a lot for the tournament such as stamina training, muscle training, and judo training. We went to a training camp in India," said Yuki Fukui, Coach.
Including Bhutan, 12 other Asian countries participated in the championship.
"It is my second time representing on an international level. I feel that getting a medal is not as important as being able to represent the country's name. The challenge we face is that we are not able to find partners as our number is less, which affects our training as well," said Yeshay Nidup, Judoka.
Yeshay Nidup added that the lack of training partners makes it difficult to train efficiently and hinders the process of building their stamina and strength.
"The Asian Games for judo is highly competitive as more athletes are Asian Olympians, from Korea, Japan, and Uzbekistan. So, winning might be difficult but we hope to finish in the top ten," said Tandin Wangchuk, Judoka.
The athletes train for four hours every day except on Sundays and Wednesday mornings.
Their training includes gym workouts, running, and judo training focused on their techniques and forms.
Tshering Deki
Edited by Sherub Dorji