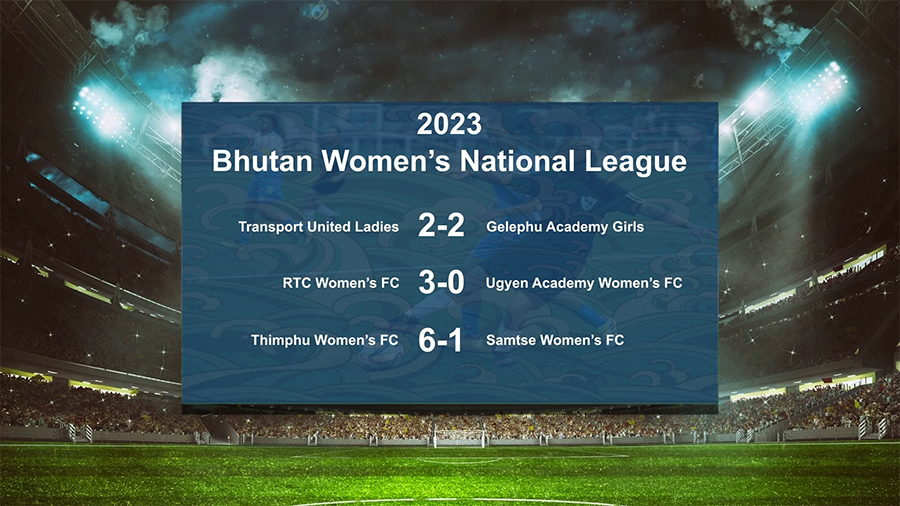 With a win each, Thimphu Women's FC and RTC Women's FC are leading the points table in the new season of Bhutan Women's National League. With the first match week complete, the league matches will be postponed for a month to accommodate the SAFF Under-16 Championship 2023. Similarly, the BOB Premier League will also be adjourned for the time being.
The new season Bhutan Women's National League kicked off on Monday.
This season, Gelephu Academy Girls, Transport United Ladies, RTC Women's FC, Thimphu Women's FC, Samtse Women's FC and Ugyen Academy Women's FC are taking part in the league.
In the opening match, Transport United Ladies played a 2-2 draw with Gelephu Academy Girls. On Tuesday, RTC Women's FC won 3-nil against Ugyen Academy Women's FC.
The match week ended with an emphatic 6-1 win for Thimphu Women's FC against Samtse Women's FC.
The result means Thimphu Women's FC are on top of the pile with Samtse Women's FC languishing at the bottom of the table.
In the BoB Bhutan Premier League, Transport United FC and Paro FC occupy the top spots with 15 points.
According to Bhutan Football Federation officials, during the break, most of the players will be engaged in international tournaments.
''The men's national team is travelling to Macau to prepare for the World Cup qualifiers. So most of the players from the BPL will be out with the national team. For the women's national team, it is the same because women will be going to Saudi Arabia to play in the Saudi King's Cup,'' said Phuntsho Wangdi, the head of media and marketing of Bhutan Football Federation.
He also said that the players taking part in the national leagues are facing challenges, especially in getting leave approvals.
''Most of the players are students, some in college, some are in schools. Getting a leave from school or college is one of the major issues that we face and the training time, is another issue that we face.''
Similarly, women footballers say there is a need to make equal opportunities for them to play in regional and continental club championships as is given to men.
''The men's winner of the BOB Bhutan Premier League, gets to take part in the AFC Championship, however, we don't have that yet for the women's league. I think AFC will be implementing that,'' said Pema Choden Tshering, the head of Women Football of the Bhutan Football Federation.
However, the AFC Women's Club Championship is still in the pilot phase. Bhutan Football Federation says Bhutan Women's National League champions will get opportunities in the future once the championship is fully established.
Karma Wangdi
Edited by Kipchu