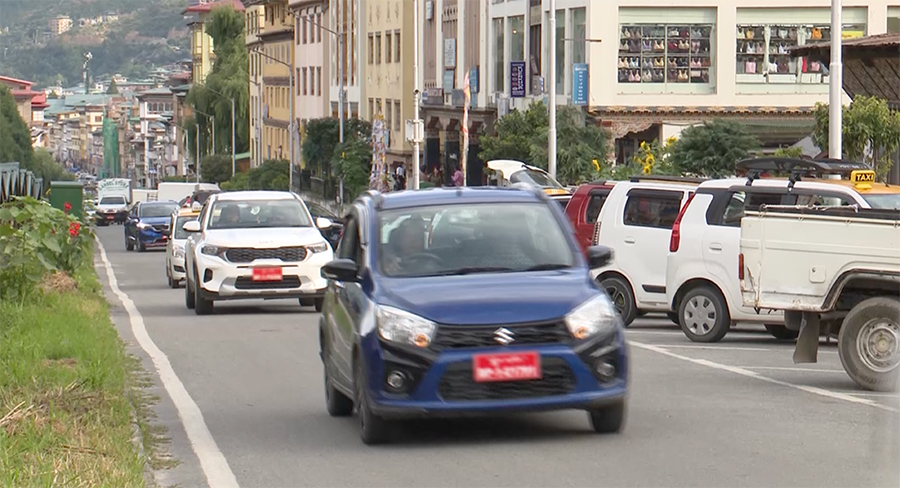 If you have been planning to buy a new car in the coming months, we have some bad news for you. The Finance Ministry has once again extended the moratorium on vehicle import for another six months. However, this time the ministry in consultation with the central bank has announced relief measures for authorised vehicle dealers impacted by the moratorium.
The moratorium on vehicle import was put in place in August last year with certain exceptions.
The finance ministry imposed the moratorium on vehicle imports as a part of its effort to curb the depleting foreign exchange reserves.
As per the Royal Monetary Authority's monthly statistical bulletin, the foreign currency reserves have come down to about USD 550 M in May this year, which is a drop of over USD 250 M in a year's time.
Earlier this month, the authorised vehicle dealers in the country spoke to BBS and called for a partial lifting of the moratorium.
If the extension continued, the dealers had planned to lay off their employees.
Recognizing the challenges faced by vehicle dealers, the ministry has introduced two relief measures aimed at supporting them to sustain until the moratorium is lifted.
One of the relief measures is to defer loan repayment of the authorised vehicle dealers.
The other is to explore the possibility of providing soft working capital at a concessional interest rate to meet the operational expenses of the dealers.
According to the notification, the ministry and the central bank are working closely to assess how the moratorium can be lifted gradually.
Exempted vehicles from the moratorium are utility vehicles costing less than Nu 1.5 M, heavy earthmoving machines, and agriculture machinery.
Vehicles for the use and promotion of tourism and public transportation such as taxis and buses, both fossil and electric are also exempt from the moratorium.
"When we buy cars, it doesn't come free of cost. The money goes. The foreign reserve which is an asset that we have made for our children in future, if we finish all of this right now, the future is very risky," said Nakphela, a resident.
"When we look at it, given the size of our country, the increasing number of vehicles is becoming very inconvenient each day. For example, when we are in a hurry and have work, it is not at all possible for us to do our work due to traffic jams," said Omtong, another resident.
The import ban also applies to civil servants who are eligible for vehicle quota before July this year.
While the finance ministry has suspended monetisation of vehicle quota since the pandemic, the eligible person has seven years to use the quota from their last allotment.
Quota holders can also write to the ministry if they need extension to use the vehicle quota.
Samten Dolkar
Edited by Sherub Dorji