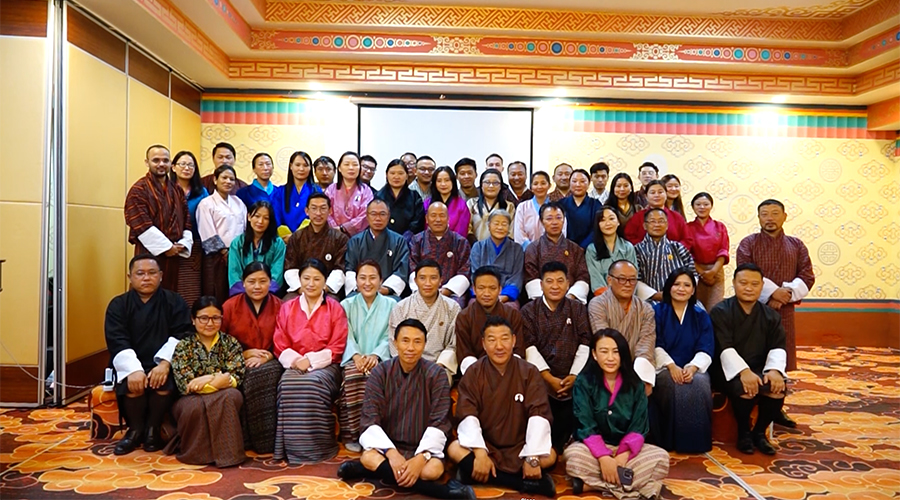 The Bhutan Trust Fund for Environmental Conservation or BTFEC is the world's first environmental trust fund. It has funded more than 238 projects amounting to over Nu 2bn since its inception in 1991. While numerous projects have been funded, many Civil Society Organisations or CSOs believe that only government organisations can apply and access these grants. To bridge this gap and strengthen collaboration, BTFEC in collaboration with Bhutan Civil Society Network organised a networking event. Over 40 CSOs from across the country participated in the event.
Clean Bhutan, a non-governmental organisation, is one of the beneficiaries of BTFEC which received a grant of around Nu 10 M. This led to the establishment of the country's first waste academy, which was launched recently in the capital. BTFEC operates by providing funds through requests for proposals.
"They had thought that it is only for the government to be funded. But as a recipient of Bhutan Trust Fund donation for projects, we had done now in 2015 one small project on advocacy which was funded by Bhutan Trust Fund," said Nedup Tshering, the executive director of Clean Bhutan.
The networking event shed light on eligibility for grants, particularly for new CSOs.
"As CSOs have to look for their own fund and I really was worried about getting funds. Moreover, I was not aware of Bhutan Trust Fund earlier. So, today's networking helped me clear my doubts. I don't know about others but for a newbie like me it was really helpful," said Kinley Kuenzang, programme officer of Duedroi Rangwang Zhidhey Tshogchung.
"There was a general perception that only CSOs related to the environment are eligible. I belong to the health committee, or there is no possibility of availing the grant. So, today from this workshop, the takeaway is there are possibilities. The only thing is how we put the idea to fit into the environmental climate change and environment issue," said Dawa Tshering, founder of the Bhutan Stroke Foundation.
The managing Director of BTFEC said anyone can apply for grants as long as the proposals are for the greater interest of society and its wellbeing.
"The awareness workshop has helped them to understand that we actually make selections based not on the entity or the agency, but mainly based on the proposal, the difference that you can make in the society with the innovative ideas that the agency may have. So all our proposals are actually viewed from that angle, not from which entity you are coming from," said Karma Tshering (PhD), the managing director of BTFEC.
The Bhutan Trust Fund for Environmental Conversation has two grants. Small grants for addressing urgent issues are capped at Nu 400,000 and large grants provide up to Nu 15 M for a maximum of three years.
BTFEC issues call for proposals annually on its website for about a month, with the deadline for this year set for August 15th.
Devika Pradhan
Edited by Sonam Pem